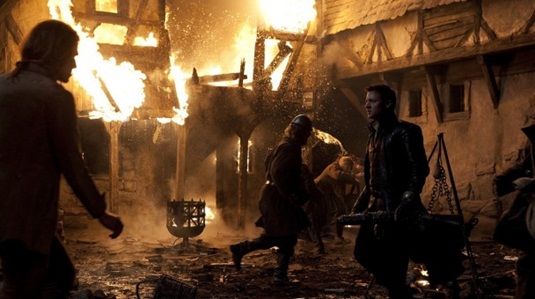 Four
Three exclusive new images from Paramount's
Hansel and Gretel: Witch Hunters
hit the web, courtesy of
ShockTillYouDrop.com
. We already shared the second red band trailer and some pretty cool images along with new TV spots and two behind-the-scenes videos. Not to mention
2 clips
showing Hansel (
Jeremy Renner
) who warns his pals not to 'eat the candy' and Gretel (
Gemma Arterton
) who faces down the movie's chief evil witch (
Famke Jansen
). In two short weeks, the gory horror-actioner coming to 3D, 2D and IMAX theaters, with Hansel and Gretel now specialized bounty hunters looking to put down the cackling black-hat set. This dark spin on the fairy tale which takes place 15 years after the eponymous siblings' incident also stars
Peter Stormare, Derek Mears
and
Thomas Mann
. Check out another sneak peek at Arteron and Renner along with director
Tommy Wirkola
showing off a nifty crew shirt.
Here's the synopsis:
Over the years, Hansel and Gretel became expert hunters, famous for their proficiency at tracking and taking down their prey. Although still recovering from their ordeal, their work is relatively easy as for an unknown reason harmful spells and curses do not work well against them. The Mayor of Augsburg recruits them to rid the town and nearby forests of an evil sorceress who is planning to sacrifice many local children at the witches' gathering during the upcoming 'Blood Moon' night in two days time. To make things worse, the duo also has to deal with the brutal Sheriff Berringer who has taken power in Augsburg and conducts a very indiscriminate witch-hunt of his own.
Fun looking horror action is set to open on January 25th, 2013.