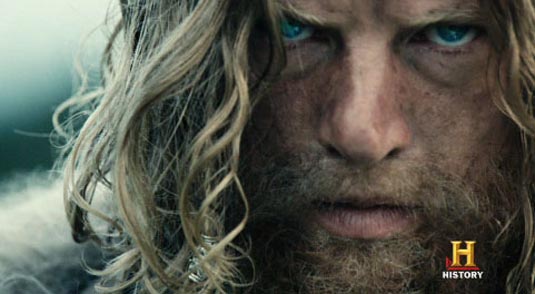 The History Channel has been developing some really great shows recently , and this new Vikings series looks pretty awesome, if judged by the promo trailer. Here, have a look for yourself: Here's the synopsis:
Vikings follows the adventures of Ragnar Lothbrok, the greatest hero of his age. The series tells the sagas of Ragnar's band of Viking brothers and his family, as he rises to become King of the Viking tribes. As well as being a fearless warrior, Ragnar embodies the Norse traditions of devotion to the gods – legend has it that he was a direct descendant of Odin, the Ruler of Gods also known as Allfather, patron god of warriors.
The movie comes out on March 3rd, 2013, it stars Travis Fimmel, Clive Standen, Katheryn Winnick, Gabriel Byrne, Jessalyn Gilsig, Gustaf Skarsgard and others. And I'm looking forward to watching it (in spite of too good-looking men and too-beautiful women)!