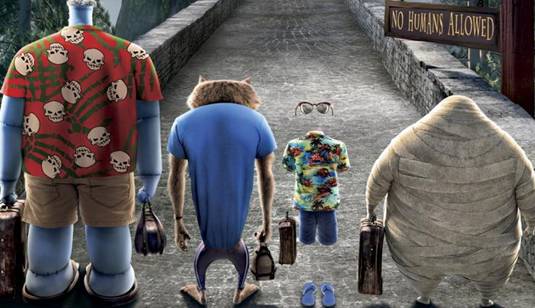 Hey guys, here's the first official teaser one-sheet for Sony Animation Pictures' horror comedy Hotel Transylvania! Directed by Genndy Tartakovsky (Samurai Jack), from the writing by Dane Hageman, Kevin Hageman and David I. Stern, Hotel Transylvania featuring the voice talents of Adam Sandler as Dracula; Selena Gomez as his daughter, Mavis; Kevin James as Frank, aka Frankenstein; Fran Drescher as his bride, Eunice; Steve Buscemi and Molly Shannon as married werewolves Wayne and Wanda; David Spade as Griffin the invisible man; David Koechner as Quasimodo; Cee-Lo Green as Murray the mummy and Andy Samberg as Jonathan, a regular guy. Hit theatres on September 21st this year and humans will be allowed. Synopsis:
Welcome to the Hotel Transylvania, Dracula's (Adam Sandler) lavish five-stake resort, where monsters and their families can live it up, free to be the monsters they are without humans to bother them. On one special weekend, Dracula has invited some of the world's most famous monsters – Frankenstein and his bride, the Mummy, the Invisible Man, a family of werewolves, and more – to celebrate his daughter Mavis's 118th birthday. For Drac, catering to all of these legendary monsters is no problem – but his world could come crashing down when one ordinary guy stumbles on the hotel and takes a shine to Mavis.
Do you find the poster 'quite good' or 'superb'?