Movie Posters
THE HUNGER GAMES: CATCHING FIRE Official IMAX Poster
The folks over at Badass Digest have debuted IMAX poster for The Hunger Games: Catching Fire, inspired by the work of Kris Kuksi, a sculptor from Kansas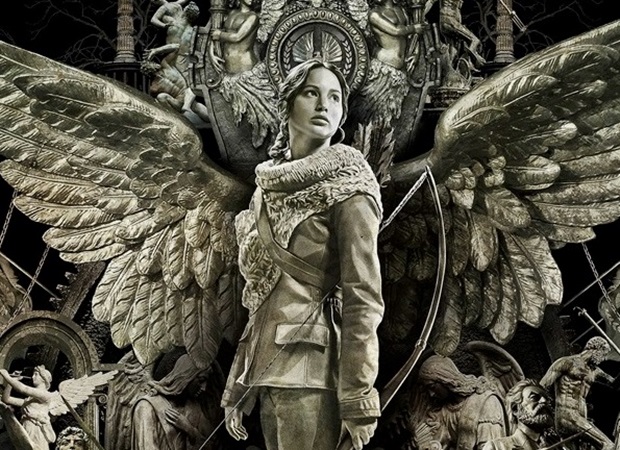 The fine folks over at Badass Digest have debuted a post-industrial Rococo IMAX poster for Lionsgate's
The Hunger Games: Catching Fire
, inspired by the work of Kris Kuksi, a sculptor and painter from Kansas. This one-sheet evokes a sculpture quality, capturing the socio-political themes of the story that you can look at for a long time, diving into detail. The sci-fi sequel stars
Jennifer Lawrence
as Katniss Everdeen, along with
Josh Hutcherson
as Peeta Mellark,
Liam Hemsworth
as Gale Hawthorne,
Woody Harrelson
as Haymitch Abernathy,
Elizabeth Banks
as Effie Trinket,
Lenny Kravitz
as Cinna,
Philip Seymour Hoffman
as Plutarch Heavensbee,
Jeffrey Wright
as Beetee,
Stanley Tucci
as Caesar Flickerman,
Donald Sutherland
as President Snow,
Toby Jones
as Claudius Templesmith and
Sam Claflin
as Finnick Odair. Francis Lawrence directs the adaptation of the second novel in author Suzanne Collins' '
Hunger Games
' trilogy, penned by
Simon Beaufoy
(Slumdog Millionaire) and
Michael Arndt
(Toy Story 3).
The Hunger Games: Catching Fire
arrives on November 22nd, 2013. Click to enlarge.
Synopsis:
THE HUNGER GAMES: CATCHING FIRE begins as Katniss Everdeen has returned home safe after winning the 74th Annual Hunger Games along with fellow tribute Peeta Mellark. Winning means that they must turn around and leave their family and close friends, embarking on a "Victor's Tour" of the districts. Along the way Katniss senses that a rebellion is simmering, but the Capitol is still very much in control as President Snow prepares the 75th Annual Hunger Games (The Quarter Quell) – a competition that could change Panem forever.