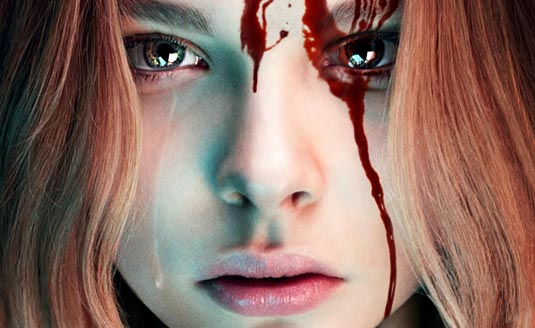 Two new images from director
Kimberly Peirce
's remake of the original based-on-Stephen King's-novel,
Carrie
, have made their debut online. Check them out below:
For those yet unfamiliar with the film, it tells a story of a young girl (
Chloe Grace Moretz
) who discovers she has telekinetic powers, all in the middle of being abused at home by her freakishly religious mother (
Julianne Moore
), and bullied at school by her peers. Stepping into shoes of Brian De Palma's previous film adaptation is a tough task, but the recent full trailer for Carrie hinted that Peirce isn't holding back on the story's intensity. It is yet to be seen if this adaptation can stand alone, but the prospect of some epic stand-offs between Moretz and Moore is certainly enticing. The film also stars
Judy Greer
,
Portia Doubleday
,
Ansel Elgort
,
Alex Russell
and
Gabriella Wilde
, and opens on October 18th, 2013.