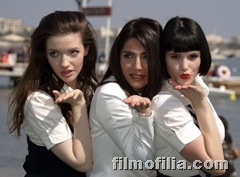 007 was never very good at keeping secrets seeing as how he'd almost always, no matter what his mission or cover was, announce himself as "Bond, James Bond." So it's fitting that the latest actor to play the iconic secret agent may have unwittingly revealed what the title of
Bond 22
will be during a TV interview. Ain't It Cool News points out that Craig appeared on the U.K. television program
This Morning
where he was, naturally, asked about
Bond 22
, which begins filming next month. A scooper for the site who saw the show claims that, when asked about the sequel's title, Craig revealed that since
Casino Royale
dealt with Bond attaining his 00 status the new film would chronicle his first actual mission as 007. Craig then strongly hinted that the title for the film could quite simply be
007
. AICN emphasized that this is just a rumor, but such a title would definitely be in keeping with the franchise's new reboot approach. In other big Bond news, several British newspapers —
The Sun, The Guardian
and
The Daily Mail
— report that British actress Gemma Arterton, 22, has been cast in the film's coveted Bond Girl role. The papers attribute the news to MarieClaire.com, the official site of the popular women's magazine, but a search of the site turned up no such report. An alleged insider at EON Prods., the producers of the Bond series, advised the
Daily Mail
, "Gemma has the modern look and fits perfectly with the new vulnerable image of Bond." Arterton reportedly sent her mother a text message saying, "I got Bond!" Arterton is a relatively unknown newcomer who co-stars in two forthcoming films:
St. Trinian's
, starring Colin Firth, Rupert Everett and
Casino Royale
Bond Girl Caterina Murino, and director Guy Ritchie's
RocknRolla
, starring Gerard Butler, Thandie Newton and Jeremy Piven. As CommanderBond.net says, however, "What makes the [Arterton] story doubtful is the fact that the last information Bond fans got was that producers are looking for a South American Bond girl and that auditions had taken place in Brazil and Panama. There is also the possibility that Arteron has landed a minor role in
Bond 22
and tabloids are vaporizing up the story." It should also be noted that the British papers had pegged Rose Byrne as being cast as "Vesper Lynd" in
Casino Royale
shortly before Eva Green was officially announced as playing the role. CBn also points out an interview that recently cast Anatole Taubman did with persoenlich.com, wherein he clarified (as much as he's allowed to) what his role is in
Bond 22
. "I'm playing — besides Mathieu Amalric — the second big villain of James Bond in the film. It's not the henchman kind of thing, it's a really big role." This would make Taubman's role akin to Simon Abkarian's "Dimitrios" in
Casino Royale
. Finally, it's increasingly looking like Austria will be one of the primary filming locations for
Bond 22
. A report at the Austrian media outlet vorarlberg.orf.at claims that Unicorn, a Swiss movie company that worked on
GoldenEye
and
Tomorrow Never Dies
, has been tapped to work on the film during its shoot in the Vorarlberg area.