Movie News
J.J. Abrams on Directing STAR WARS: EPISODE VII; Says the Release Date Might be Pushed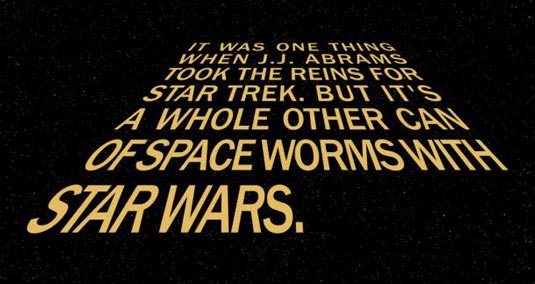 With
J.J. Abrams now officially on board
to direct
Star Wars: Episode VII
and Disney confirming the news late last week, fans are now patiently waiting for 2015, the date that was first set for the potential release. But it looks like that may not be definite date, yet. In fact, Disney's press release announcing Abrams made no mention of a release date at all, and the following may be the reason. According to
THR
, while Abrams is on to direct, he "has not committed to that release date, meaning the date could be changed if the development process requires it." This is hardly a big surprise, since Abrams pulled the same move with Paramount when negotiating to helm Star Trek Into Darkness. They wanted the followup for a 2012, but Abrams refused to rush and pushed the movie back to 2013. And that's something to be respected – what with studios dishing sequels out on conveyor belts, it's refreshing that Abrams wants to make sure things are right before pulling cameras out.
Meanwhile, he has finally commented on his new Star Wars gig: "It really is an incredible thing," Abrams told
E! Online
. "It's wildly surreal. It's obviously way too early to talk specifics," Abrams said after being asked whether the original Star Wars cast will return. "But I'm excited to actually start it." However, as exilarated as he might be, the other thing to consider is that outside of Star Wars, Abrams is extremely busy. He's confirmed to produce Star Trek 3, develop the next Mission: Impossible and just had two TV pilots greenlit. Undoubtedly, his attention is going to be divided, and perhaps he wants to clear a few things off his plate before focusing on Star Wars: Episode VII, which goes in addition to above said. J.J. Abrams will be directing Star Wars: Episode VII and Oscar-winning writer
Michael Arndt
will pen the script. Abrams, his longtime producing partner Bryan Burk, and Bad Robot are on board to produce along with Kathleen Kennedy under the Disney/Lucasfilm banner. Also consulting on the project are
Lawrence Kasdan
(writer of The Empire Strikes Back) and
Simon Kinberg
. Well, it seems a galaxy far, far away might be a bit further down the road than we expected.