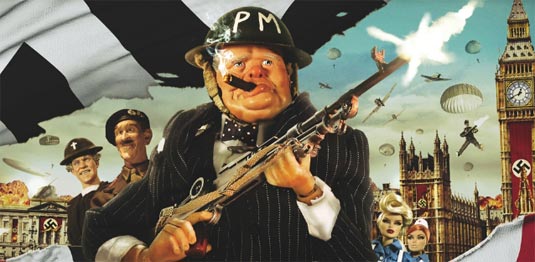 Here are the trailer and two posters for puppets/stop-motion animation film
Jackboots on Whitehall
which featuring the voices of
Ewan McGregor, Rosamund Pike, Timothy Spall
and
Dominic West.
Set in World War II, the film is a satirical version of the war that sees the Scottish defeat the Germans and save England from invasion – even "with their tiny plastic hands". From the
McHenry Brothers
(Edward McHenry and Rory McHenry) comes a satirical version of World War II in which the Scottish defeat the German invasion of England. Chris (
Ewan McGregor
) dreams of the chance to join the army and fight in exciting new lands rather than be stuck in the slow paced village life he has grown up in. His chance comes when the three top Nazis hatch a plan to invade England by drilling under the English Channel and into the heart of London. With the entire British army stuck in Dunkirk and no military support to defend the country, Churchill issues a final radio broadcast from his bunker in Downing Street – a cry for help. But can the nation unite in time to make one last stand against the Nazi forces?
Jackboots on Whitehall
boasts pioneering techniques in animation, fusing innovative puppeteering animatronics developed by Rory McHenry and VFX by MFX London.
Jackboots on Whitehall
premieres in UK on October 8,  and a US release date is still to be decided.
What do you guys think of it?
[flv]http://ictv-tf-ec.indieclicktv.com/media/videos/97b1fda2ca43d6c29eaf63ed1ec347c6/4c081f5c650ad/31/video.mp4[/flv]
Jackboots on Whitehall Posters
Jackboots on Whitehall Poster
Jackboots on Whitehall Poster