Movie Photos
Jaden Smith Dresses for the Future in After Earth Photo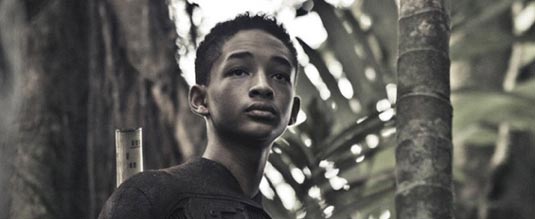 Jaden Smith
and his father
Will Smith
are on board for the upcoming
M. Night Shyamalan
's sci-fi drama
After Earth
, but I'm sure you already know that. But what you probably don't know is that young Smith definitely looks great in this tight apocalyptic costume. Oh, you knew that as well? Never mind, take another look! So, After Earth will focus on Will and Jaden Smith as a father and son who crash-land on Earth one thousand years after mankind has abandoned the planet. The crash leaves the elder Smith badly injured, and it's up to the boy to find help in what is now a strange and dangerous place. And, if this costume looks strange to you, although it's quite normal for a story which is set 1,000 years into the future – blame it on the global warming!
Zoe Kravitz, Isabelle Fuhrman
and
Sophie Okonedo
also co-star in After Earth and the movie is currently set to open on June 7th, 2013.