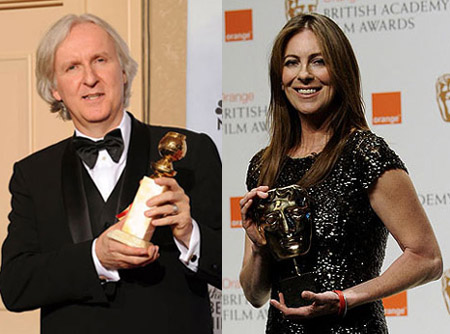 He could go home with another one. She, on the other hand, could become the first woman to take home that prize. Yes, you're all guessing what we're wondering about! One the
Oscar
day we're talking about this big competition of former life couple,
Kathryn Bigelow
and well-known director
James Cameron
. We must say that it's Cameron who provoked us all to write about this, since you all had a chance to hear his question that referred to her possible win: "Did Katherine Bigelow win the Oscar for Best Director because she was the best, or because she was a woman? And you must agree that sayings like: "I would say that it's an irresistible opportunity for the Academy to anoint a female director for the first time" or  "I would say that that's, you know, a very strong probability and I will be cheering when that happens" sound really ironic. That's why we're not surprised, that most of the people got the impression he wants to position himself as the man who bestowed the award on Bigelow. Who cares if she's a woman? I know, I know…But still… Now, the buzz is that James Cameron has been saying that
he wants
his ex-wife Kathryn Bigelow to win the Best Director award.
BUT
he wants to win the Best Picture Award, not for himself (!) but for all those many people who have worked with him in the 3-D saga Avatar. Fair enough! He was quoted saying, "It'd be really cool to lose to her. So far she hasn't had the accolades she deserves. I know the one she wants – though not as 'woman director'. She wants to be simply Best Director. And I hope she gets it. She's ready to be anointed." Both the films have been Oscar nominated in the Best Picture and in the Best Director category.
– The Hurt Locker
beat
Avatar
in every BAFTA category they were both nominated for with the exception of two. Bigelow won BAFTA's Best Director Award for the movie – which also took home best picture. – Cameron took the directing prize at the Golden Globes, but Bigelow earned the top honor from the
Directors Guild of America
, whose recipient almost always wins the same award at the Oscars. – Traditionally, the academy loves war films and hates science fiction. Only three sci-fi movies have even been nominated for Best Picture –
ET
,
Star Wars
and
A Clockwork Orange
. James Cameron's
Avatar
would be the only science-fiction film ever to take home the best-picture prize. So what can we expect tomorrow? Bigelow follows in the footsteps of Lina Wertmuller, the first woman nominated for directing for 1975's
Seven Beauties
, but this time with her tough and tense
Locker
. On the other hand, we have sci-fi epic film, written and directed by Cameron, and, as we all know, the film received generally positive reviews from film critics (although it has also been slammed by critics ranging from the Vatican through the Marine Corps to liberals who don't like its white-man-saving-the-natives theme). Anyway, we must say that this already smells like one of those Oscar shows where voters will settle on an amicable split between best picture and director, allowing Academy members to share the love between two highly regarded films. So maybe we could expect this kind of script for tonight's show:
Avatar
gets best picture, Bigelow gets best director for
The Hurt Locker
, becoming the first woman to win Hollywood's top award for filmmakers? Maybe? Still, we're not going to be the part of any campaign that has been going around, whether it refers to Cameron or Bigelow. We can only wish them both good luck, as well as
all Oscar nominated movies and actors
I can't stop thinking about
Inglourious Basterds
or
District 9, Christoph Waltz, Sandra Bullock
(yes!),
Penélope Cruz
or
Vera Farmiga, Up, The White Ribbon
and
Precious
. What do you think? And, just for a record, we gotta feeling that tonight's gonna be a good night…