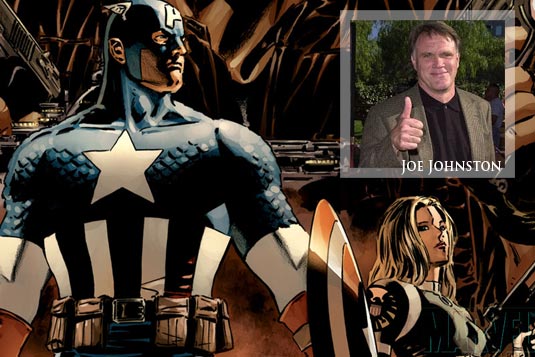 Joe Johnston has signed on to direct Marvel Studios' "First Avenger: Captain America." Johnston is currently directing "The Wolfman," which hits theaters on April 3. He is developing "The Death and Life of Charlie St. Cloud." Johnston previously directed "October Sky", "Jumanji", "Jurassic Park III", "The Rocketeer and Honey", "I Shrunk the Kids". Johnston won an Academy Award in 1982 for Best Visual Effects for "Raiders of the Lost Ark". He now joins the ranks of Jon Favreau, Louis Leterrier, and Kenneth Branagh as Marvel's dream team of directors set to turn bring the real Marvel universe to life in a series of films that will eventually converge in The Avengers in 2011. The superhero blockbuster, based on a character created in 1941 by Jack Kirby and Joe Simon, focuses on a weak man called Steve Rogers who is injected with an experimental serum which transforms him into a muscular superhero. Captain America will be a World War II-set movie, and the character will appear in the modern day-set Avengers. No writers are on board but the studio expects to hire one shortly. The film will be produced by Marvel Studios' President Kevin Feige. Executive Producers on the project are Louis D'Esposito, Stan Lee and Marvel Studios' Chairman David Maisel. Paramount Pictures will distribute "First Avenger: Captain America" worldwide.
"This is a guy who designed the vehicles for 'Star Wars,' who storyboarded the convoy action sequence for 'Raiders of the Lost Ark,'" said producer K. Feige. "From 'Rocketeer' to 'October Sky' to 'The Wolfman,' you can look at pieces of his movies and see how they lead to this one."
Captain America is scheduled for release May 6, 2011.