Movie News
Johnny Depp At Kustendorf Film Festival In Serbia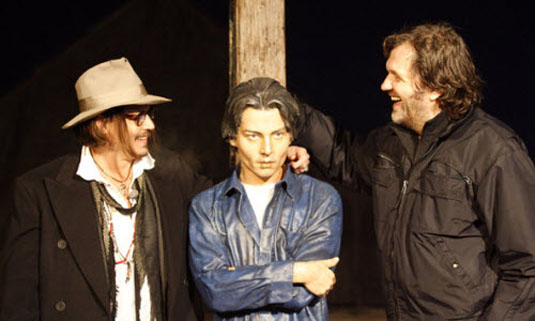 The Third International Kustendorf Film and Music Festival opened on Wednesday in Serbia with Johnny Depp present as guest of honour.
The festival is organized by film director Emir Kusturica, in his Drvengrad (wood town), the village which was created by Kusturica for his film, "Life is a Miracle".
The festival started in an unusual manner- without saying a word, Kusturica removed flags covering Johnny's nearly life-sized bust, which was followed by impressive fireworks.
In addition to the statue, Johnny also received the "Award for Future Movies."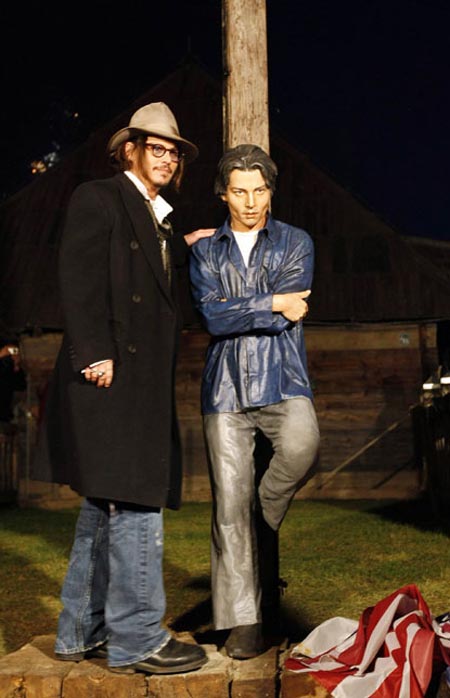 Johnny Depp and his statue | Kustendorf
"I am completely shocked because I could not have imagined that such a magical and beautiful place could be home to a movie festival, of the kind I've never been to before. Unlike other festivals, people can communicate and get to know each other here. I'm impressed with this place," Depp said.
Depp added he admires filmmakers such as Tim Burton and Kusturica who create truly original work.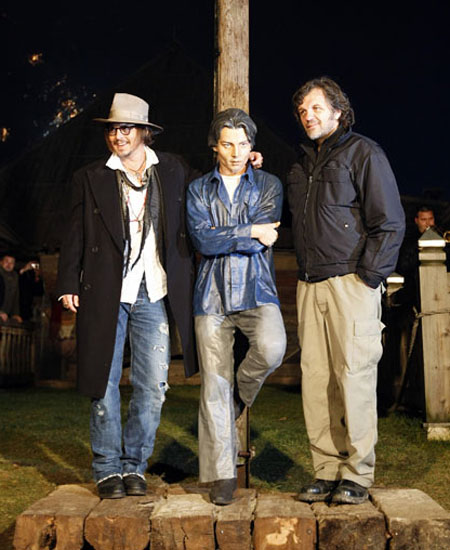 Johnny Depp, his statue and Emir Kusturica
"Johnny is a man who has after all these years showed me that decency, kindness and good character, as it's said in Christianity, make a person, and here's a real person," said Kusturica.
The acclaimed director's friendship with the actor goes back almost 20 years. Depp stared in Kusturica's movie "Arizona Dream" from 1993 alongside Jerry Lewis, Faye Dunaway and Vincent Gallo.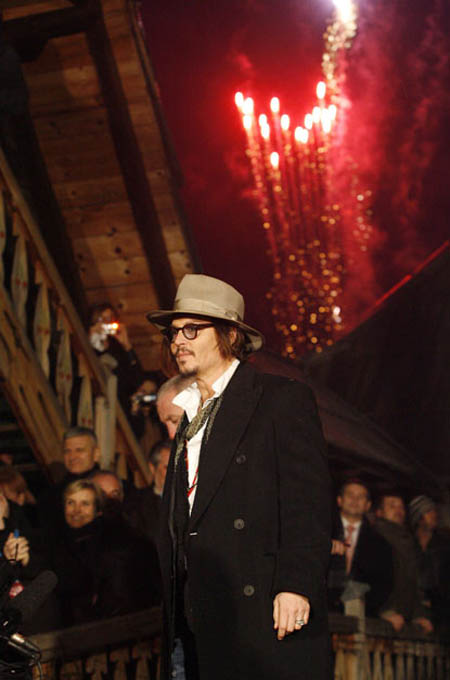 Johnny Depp at Kustendorf
It wasn't all fun and games for Johnny though. He also talked business with Kusturica, who will direct him in the movie "Seven Friends of Pancho Villa and the Woman with Six Fingers" before the year's end. The movie, which may be filmed in Serbia, will also star Salma Hayek and Serbian actor Miki Manojlovic.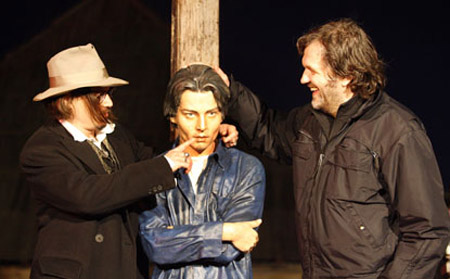 Johnny Depp, his statue and Emir Kusturica at Kustendorf
Kusturica, who won the Palme d'Or at Cannes twice for his films "When Father Was Away on Business" and "Underground, " founded the festival in Drvengrad three years ago.
The Festival is dedicated to young films makers and 28 films, from diferents films-school among the world are in competition for Golden, Silver and Bronze egg.
International Kustendorf Film and Music Festival runs until January 19, 2010.