Movie News
Johnny Knoxville to Play Moe Howard in Farrellys' The Three Stooges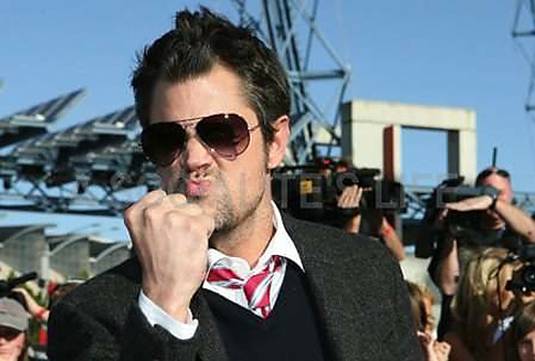 Official negotiations are not concluded, but the Farrelly Brothers are reportedly "eager to cast" Johnny Knoxville as Moe Howard, and Knoxville is said to be interested in the role.
Seems The Three Stooges is finally moving forward after a long break. Writer/directors Peter and Bobby Farrelly made some extraordinary casting choice for their upcoming slapstick comedy when they originally cast Benicio Del Toro as Moe, Sean Penn as Larry, and Jim Carrey as Curly back in 2009.
Since studio MGM had hit financial troubles, the Farrellys slowly began to lose their cast. First, Carrey told he wasn't willing to put his weight behind the demand to play Curly. Whilst Del Toro was still considered the frontrunner for Moe, Peter disclosed that Penn's contribution to the people of Haiti made him too busy to play Larry.
The Farrellys revealed last December that their casting standards were to find "the best possible people" that could represent "Moe Howard, Larry Fine and Curly Howard." Apparently the first and the best one is Johnny Knoxville.
Variety reports that Knoxville is the Farrelly's pick for the role, and are pending the Jackass star to "officially accept" the part so final negotiations can start. Knoxville previously worked with the Farrellys on 2005's The Ringer, which the brothers exec produced.
The turn from Academy Award and Golden Globe winning actors to Knoxville is a move to a younger audience, and is reportedly the first step before casting the two other lead roles. Earlier this month, Bobby stated that Australian actor Shane Jacobson was "in the mix" for the role of Curly, and the The Playlist reported prior this month that Will Sasso could run for Curly, while Justin Timberlake, Woody Harrelson and Larry David were rumored to be entitled to the part of Larry.
The Farrellys consider their feature as a "resurrection" of the famous comedic trio, and the movie will consist of three 27-minute long shorts including the The Three Stooges' face-slapping comedy. Shooting will begin in mid-April in Atlanta.
Why not just add Jackass's co-stars Steve-O as Larry and Preston Lacy as Curly? Or you think that Knoxville's too tall, sticking to the flow.
First check the video below.
[youtube]http://www.youtube.com/watch?v=GWFswXpqhR4[/youtube]