Movie News
Kenny Wormald as Ren McCormack in Footloose Remake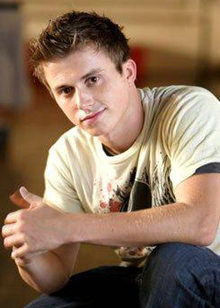 Remember our latest Footloose report where we talked about Thomas Dekker, who was, at the time, the top candidate to play Bacon's classic character from the original film? At the time, yeah, exactly. Because he's no longer actual!
Check this out: Ren McCormack will now be played by Kenny Wormald, a 25-year-old dancer best known for his appearances on MTV reality show Dancelife.
And, yes, that does mean this guy knows how to dance, but can he act, that's the question now. Not much of experience, but, let's give him a chance! What's the worst that could happen? At least we do expect to see some great moves.
Wormald is professional dancer who has appeared in music videos for Mariah Carey, Christina Aguilera, Chris Brown and Nelly Furtado and also had a starring role in the straight-to-DVD film Center Stage 2.
But, that's not all, because at this moment we have some official casting details.
Julianne Hough (Dancing With the Stars") will play the preacher's daughter who falls for Ren, and Dennis Quaid will take over the role of the conservative town preacher, originally played by John Lithgow. Miles Teller will play the lunkhead friend played in the original by Chris Penn.
It's not just about brand new cast, it's about brand new director as well! Hustle and Flow director Craig Brewer is in charge for directing a remake (the project had initially been set up for High School Musical director Kenny Ortega), the script is being written by Craig Brewer, while Dean Pitchford, the writer of the original film, will be producing. Brewer sought to return the film to its original drama, wrapped up in teen angst, parental control, religious repression, and small-town malaise.
Here's what he had to say about this remake: "I can promise Footloose fans that I will be true to the spirit of the original film, but I still gotta put my own Southern grit into it and kick it into 2011".
2011, exactly, because Footloose will begin production this fall and will open in theatres on April 1, 2011. We'll keep an eye on Brewer's work, stay tuned!