Movie News
Kevin Spacey going to China for INSEPARABLE plus Posters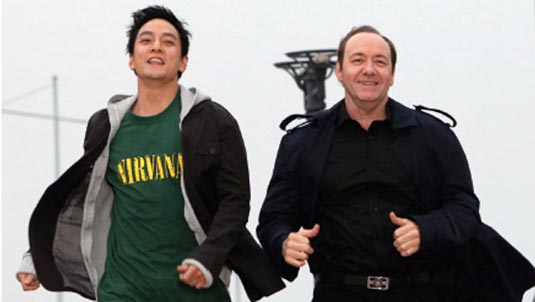 Yep, Hollywood actors making films in China is definitely going to be big. After Hugh Jackman going to China for Snow Flower and the Secret Fan and before Christian Bale for Flowers of War (what's with all the flowers?), Kevin Spacey went for Inseparable, new Dayyan Eng's movie shot with Mandarin Chinese and English dialogs.
The movie is a quirky dramedy set in fast-changing China, where a troubled young man, Li (Daniel Wu), faces pressure at work and problems at home with his increasingly moody wife (Beibi Gong). Chuck (Kevin Spacey), an American expat, rescues Li from the brink of despair and becomes an unlikely friend and mentor. But is Chuck really just a good neighbor?
"A great deal of finance and talent is going to be coming to China in the next decade," he says. "I have every intention of returning and working again, both as an actor, but I would also love to produce films in China."
We will have a chance to see Inseparable soon, judging by the China release date which was on May 4th, 2012.
We have also some posters for you to check out. Enjoy!