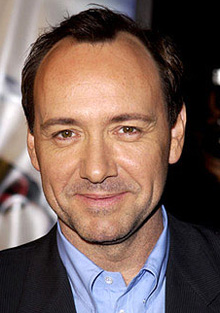 Ok, at this moment we have the most interesting cast that one comedy can handle:
Colin Farrell, Jennifer Aniston, Jamie Foxx, Charlie Day, Jason Bateman
and
Jason Sudeikis
. They are all set to star in an upcoming
Seth Gordon
's comedy
Horrible Bosses
. But looks like this is not the end of the list, because another great name is attached to this comedy as well and that will be
Kevin Spacey
, guys! This project is already described as "a dark, in-the-workplace comedy" or if you prefer, the movie is based around three friends who conspire to kill their bosses. So, basically, frustrated by their jobs Jason Sudeikis, Jason Bateman and Charlie Day will star as a "trio of friends who conspire to murder each others' bosses." Jennifer Aniston and Colin Farrell are two of the offending office tyrants, while Jamie Foxx is a colorfully named scam artist who dishes killing advice to the three regular guys." Of course, Kevin Spacey will have an honor to play the worst of the bosses, or, as they describe him "a master manipulator with an attractive wife." Yeah, we already knew this was coming, and we must admit that Spacey is the perfect guy for this kind of role, although, we do know he's a very busy guy lately (with that
Margin Call
financial drama on the way). Let us also remind you that Seth Gordon is directing from the script of
Jonathan Goldstein
and
John Francis Daley
. Brett Ratner and Jay Stern are producing.
Horrible Bosses
is currently slated to hit theaters on July 29, 2011 and in the mean time, we'll keep an eye on them!