Movie Photos
KICK-ASS 2 Construction Of The Cemetery Set Plus Behind-The-Scenes Videos & Pics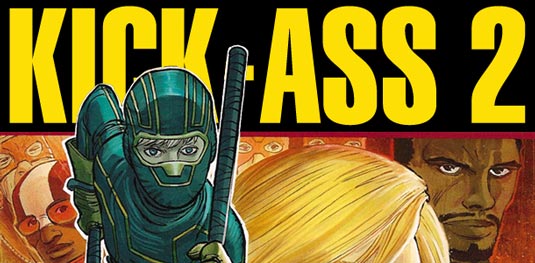 Remember that moving, tragi-comic film about a real-life, ordinary people-turned-superheroes, Kick-Ass? We reported a while ago that there's a follow-up coming, and now we have another image from the Kick-Ass 2 convenience store set. This is the same store that we saw The Mother F*cker (Christopher Mintz-Plasse) attempt to rob but was ultimately unsuccessful.
The next two images are of the cemetery set being put together at the UK studio. Anyone that has read Mark Millar and John Romita Jr.'s comic book will easily recognize the importance of that set.
The last set of photos are behind-the-scenes shots of Donald Faison (Dr. Gravity) working out with his co-star Olga Kurkulina (Mother Russia).
Thanks to stalkers (heheh), we also have more set videos of Jim Carrey (Colonel Stars) in costume filming scenes alongside Aaron-Taylor Johnson (Kick-Ass), Robert Emms (Insect-Man) and Lindy Booth (Night-Bitch). The last video is an interview that Claudia Lee (Brooke) recently conducted in which she discusses working on Kick-Ass 2. Kick-Ass 2 is based on the comic book created by Mark Millar and John Romita Jr. and is being directed by Jeff Wadlow. The film also stars Chloë Moretz, Lyndsy Fonseca, Yancy Butler, John Leguizamo, and Nicolas Cage makes a cameo. The film hits the theaters U.S. – wide on June 28th, 2013.