An international quad poster has been released for a sort of Western / crime drama / black comedy
Killer Joe
.
William Friedkin
's latest movie stars
Matthew McConaughey, Emile Hirsch, Juno Temple, Gina Gershon
, and
Thomas Haden Church
. The film based on Pulitzer winner Tracy Letts' play premiered at the 68th Venice Film Festival before making its North American debut at the 2011 TIFF; it will be released uncut & uncensored with the NC-17 on July 27th, 2012. Hit the jump to check out the plot synopsis and the third poster for Killer Joe:
When 22-year-old Chris (Emile Hirsch) finds himself in debt to a drug lord, he hires a hitman to dispatch his mother, whose $50,000 life insurance policy benefits his sister Dottie (Juno Temple). Chris finds Joe Cooper (Matthew McConaughey), a creepy, crazy Dallas cop who moonlights as a contract killer. When Chris can't pay Joe upfront, Joe sets his sight on Dottie as collateral for the job. The contract killer and his hostage develop an unusual bond. Like from a modern-day, twisted fairy tale, "Killer Joe" Cooper becomes the prince to Dottie's Cinderella. Based on the play by Pulitzer and Tony Award winner Tracy Letts, "Killer Joe" is a garish, proactive black comedy.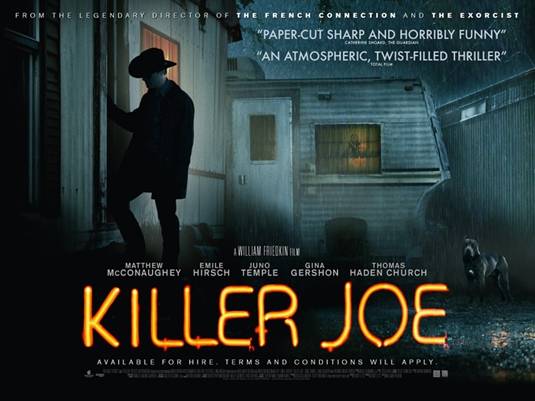 Source:
Filmz.ru