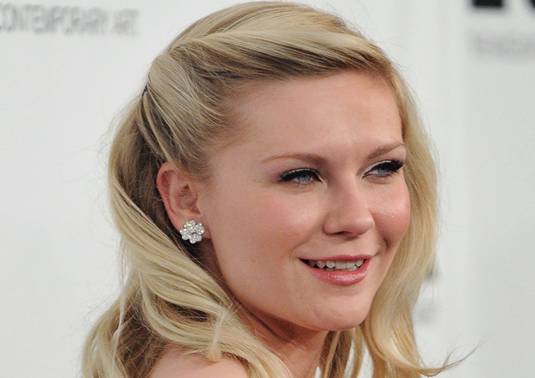 A young woman with a promising career, that's a brief description of the Justine character, but the same can be said of a 2011 sci-fi drama protagonist,
Kirsten Dunst
. Talented thesp began her career when she was three years old and has a pretty busy schedule this year. Best actress at the Cannes Film Festival revealed another 'adult' character that she will be taking up – Dunst will probably star as the prostitute, Christina, in erotic indie drama called
Red Light Winter
.
It's a play called A Red Light Winter and it's with me, Mark Ruffalo and Billy Crudup – and I get to play a prostitute,
she told TOH.
It's a complex role but it'll be fun. I love Mark so much – he's such an awesome, giving and cool actor to work with. He's such a cool dude.
Based on the play by
Adam Rapp
(Winter Passing) upcoming indie drama focuses on two New Yorkers (Ruffalo and Crudup) who go to Amsterdam to rekindle their friendship and escape from personal troubles, but things change when they meet a prostitute (Dunst) who comes between them. Red Light Winter is set to start filming in January. Dunst who has recently filmed the short film The Second Bakery Attack is due to appear in Juan Diego Solanas' sci-fi romance Upside Down co-starring Jim Sturgess. As of September 2011, Dunst finished filming a dark indie comedy with Isla Fisher, Bachelorette. She will reportedly join Kristen Stewart, in the upcoming feature, On the Road, produced by Will Ferrell and Adam McKay. Reports have stated as well that she will join Clive Owen and Orlando Bloom in the international thriller titled Cities that will shoot in multiple cities next spring.
I'm lucky right now. If I feel there is something that I am really drawn to, I would work and try to produce something, but I have found some good projects recently,
she added. Furthermore, Dunst has already expressed interest in playing the role of Blondie singer Debbie Harry (she looks like her) in Michel Gondry's upcoming biopic about the American new wave band. [youtube]http://www.youtube.com/watch?v=w_Fse0iexgQ[/youtube]
Kirsten Dunst Interview 1
[youtube]http://www.youtube.com/watch?v=gonIit_YpJI[/youtube]
Kirsten Dunst Interview 2
 Source:
TOH