Movie News
"Kung Fu Panda" Sequel "Pandamonium" In 3D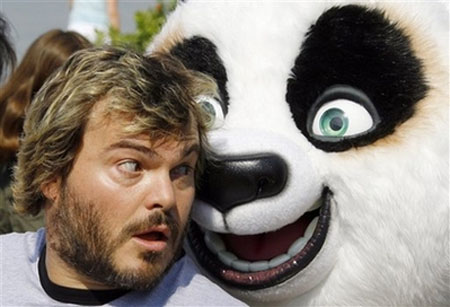 Jack Black
and
Angelina Jolie
have signed on to reprise their voice roles in DreamWorks Animation's "
Kung Fu Panda
" sequel, titled "
Pandamonium
." "Pandamonium" will be produced in stereoscopic 3D technology like all
DreamWorks Animation
feature films beginning in 2009. "Kung Fu Panda" sequel centers on Po, the world's biggest kung fu fan, as he continues his journey as the chosen one who fulfills an ancient prophecy while mastering the art of kung fu.
Melissa Cobb
is producing.
Jonathan Aibel
and
Glenn Berger
, who wrote and co-produced the original film and
Jennifer Yuh Nelson
, head of story on "Kung Fu Panda" will also return. "Pandamonium" is scheduled to hit theaters on June 3, 2011.