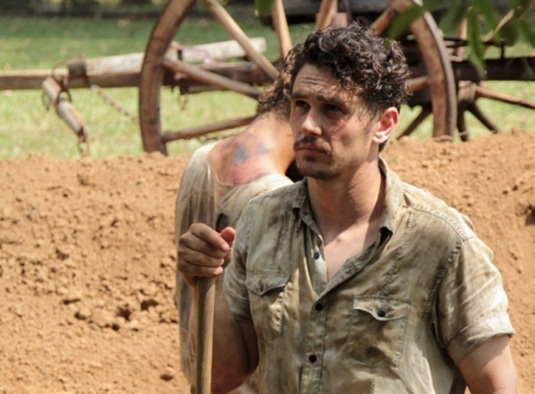 James Franco's adaptation of William Faulkner's As I Lay Dying will premiere in the Un Certain Regard section at the 2013 Cannes Film Festival in just a few days and the first trailer for the film has arrived.
Franco also stars alongside Logan Marshall-Green, Danny McBride, Tim Blake Nelson, Ahna O'Reilly, Beth Grant, Jesse Heiman and more.
The first promo trailer is, in fact, better than I expected thanks to the gorgeous cinematography of frequent Franco collaborator Christina Voros, incorporating the same kind of stream-of-consciousness style as the novel.
Franco plays Darl Bundren, who serves as the story's main narrator for at least the first part of the story, showing off his Southern drawl.
Makes me wonder how sexual assault scene got a pass to appear in trailer. Besides, it's definitely an interesting film look at Franco's largest directorial effort to date.
Hit the jump to check out the trailer and poster below.
Here's a synopsis:
AS I LAY DYING is an upcoming drama film directed by and starring James Franco, based on the book by William Faulkner and charts the story of the Bundren family and their attempts to bury Addie Bundren in the town of Jefferson. It has been selected to be screened in the Un Certain Regard section at the 2013 Cannes Film Festival.

Franco himself stars as Darl Bundren, the son of a woman who has recently died, and whose family is attempting to honor her wish of being buried in a town forty miles away from the family home. Tim Blake Nelson plays the widowed patriarch and Franco's father, while Jim Parrack (True Blood) plays one of his brothers. Danny McBride, who previously co-starred with Franco in the extreme stoner comedy "Pineapple Express," Logan Marshall-Green (Prometheus) and Ahna O'Reilly (The Help) also star in the film.