Movie News
Liam Hemsworth and Dane DeHaan In THE HOST?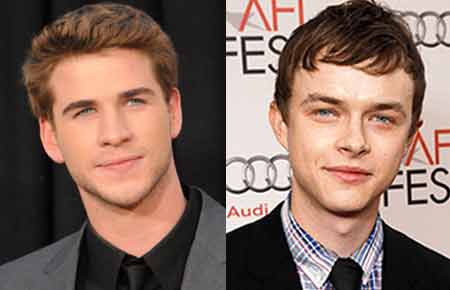 I like this Hollywood competition! Especially when you have two male leads in one movie. Like we have in the upcoming
Andrew Niccol
's adaptation of
Stephanie Meyer
's sci-fi novel
The Host
. So, no wonder we already have some big names involved in the whole thing. As you probably remember,
Saoirse Ronan
is on board to play the female lead and now we hear that producers will begin testing actors for the two male leads. So, check this out. Ronan plays Melanie, a woman whose body is invaded by an alien named Wanderer. According to Variety,
Liam Hemsworth, Kit Harington, Jai Courtney
and
Max Irons
will test for the role of Jared, Melanie's boyfriend. On the other hand,
Dane DeHaan, Thomas McDonnell, Augustus Prew
and Ronan's
Lovely Bones
co-star
Jake Abel
will test for the role of Ian, a menacing young man who brutalizes Wanderer before falling in love with her. Well, this definitely sounds great, and I really have no idea who should be the lucky winner(s). I mean, they're all great guys, right? For those of you who still have no idea what The Host is actually about, here's the description of Meyer's novel: "A race of parasitic aliens has nearly completed its benevolent conquest of the aggressive, violent human race. By implanting themselves into humans, the souls have access to all of the hosts' memories and emotions and are indistinguishable from them. The humans do not realize they're being taken over until it is nearly too late. Some resist the invasion, including Melanie Stryder, her brother, and her lover. When Melanie is killed on a mission, her body is taken over by a soul named "Wanderer." Melanie's memories prove overwhelming for Wanderer, who eventually succumbs to her need to search out her family. What follows is a tale of survival, friendship, and love. By discussing Earth's invasion from the conqueror's viewpoint, the novel takes a unique look at a fairly standard plot device. It overcomes a slow beginning after Wanderer reaches the humans and begins to care about the ones she meets personally. She comes to love Melanie's brother like her own, fights her body's attraction to Melanie's lover, and grows ever closer to another human, Ian. The humans in turn accept Wanderer as a valuable and caring individual, rather than as Melanie's oppressor. They overcome their prejudices and begin to work together in the humans' best interests." The Host opens March 29th, 2013 so don't forget to stay tuned for more updates!