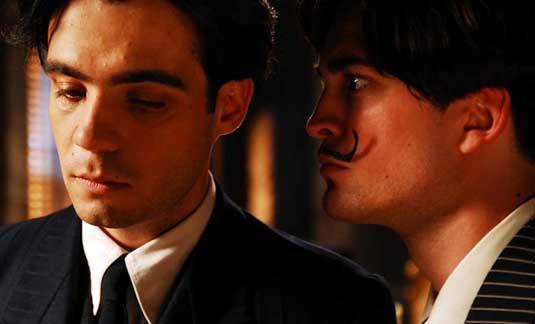 The first clip from Salvador Dalí's biopic "Little Ashes" directed by Paul Morrison from a script by Philippa Goslett. The film first premiered at the Raindance Film Festival in the UK has debuted.
Robert Pattinson, after role of vampire plays an 18-year-old Dalí who moves to Madrid where he begins experimenting with the cubist style that launched his young career. Set in 1920s Spain, the film focuses on poet Federico García Lorca (Javier Beltrán) and the intense bond he forms with Dalí (Robert Pattinson) while attending art school in Madrid. Dali swore that Lorca's lust for him never became physical, but screenwriter Philippa Goslett's take on the relationship is much steamier.
No official release date has been set for "Little Ashes," but we can expect it to see it play in limited theaters during the first-half of 2009.