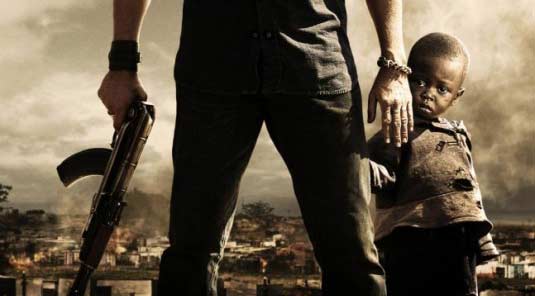 So, anyone out there interested to see how it looks like when
Gerard Butler
screams at a banker? See, that's why this is an exclusive video clip – because Butler is one calm guy and he never screams on a big screen. As the matter of fact, I think I'm wrong, he already yelled at people in
300
, hm? Oh, what the hell, it's time for me to share two clips from the upcoming
Machine Gun Preacher
movie and go home. Here's the thing. I could actually care for this movie. Why? First of all, it's based on the true story of former drug dealer Sam Childers who later became a missionary saving kidnapped children in Sudan. Then, as you will see in these videos, Butler helps a bunch of kids by letting them sleep in his bedroom. Because, well,
death comes at night
? Is that enough? Should I live my light
on
when I go to sleep? See, I'm scared now, I'll stay here all night, damn you Butler!
Marc Forster
's Machine Gun Preacher stars Gerard Butler as real-life hero Sam Childers – the one man fearless enough to fight a ruthless army outnumbering him 1,000 to 1. The fierce edge that once led Childers to a life of crime now fuels his daring crusade into Africa's most dangerous battle zones to rescue children from the clutches of rebel warlords. His mission is clear: protect the children, no matter the cost. At the end, let me just add that Grammy winner
Chris Cornell
, wrote and performed a new original song
The Keeper
for the album's lead track, which will be available for download prior to the album's release on August 30. Movie opens in limited release on September 23rd and will premiere first at TIFF. Comment people, comment! Really, what do you think about this one? [youtube]http://www.youtube.com/watch?v=hwcXHrbHDzg[/youtube]
Machine Gun Preacher Clip #1
and the screaming one
Machine Gun Preacher Clip #2