Movie Posters
MARGARET Trailer Starring Matt Damon and Anna Paquin
This is probably one of the weirdest things I've seen lately. I mean, loosing a virginity is always a difficult thing (yeah, yeah, deal with it) but I never ever thought it could be this hard. No, I'm not touching myself while writing this, I'm actually talking about the upcoming Kenneth Lonergan's Margaret project.
And if you have a moment to see the trailer and poster for the whole thing, you'll see what I'm talking about.
So, the best thing about this project is definitely cast which includes Anna Paquin, Mark Ruffalo, Matt Damon, Matthew Broderick, Jean Reno and Olivia Thirlby.
On the other hand, the good news is that we finally have a release date as well! Yeah, exactly, we've just learned that Margaret will open on September 30th in limited release.
As you probably already know, Margaret is that long-awaited and long-delayed follow-up to Lonergan's You Can Count on Me project, and it centers on a 17-year-old New York City high-school student who feels certain that she inadvertently played a role in a traffic accident that has claimed a woman's life.
In her attempts to set things right she meets with opposition at every step. Torn apart with frustration, she begins emotionally brutalizing her family, her friends, her teachers, and most of all, herself.
She has been confronted quite unexpectedly with a basic truth: that her youthful ideals are on a collision course against the realities and compromises of the adult world.
Don't forget guys, it's September 30th!
Enjoy the trailer, and share your thoughts with us!
[youtube]http://www.youtube.com/watch?v=7YAiS-3EhMI[/youtube]
Margaret Trailer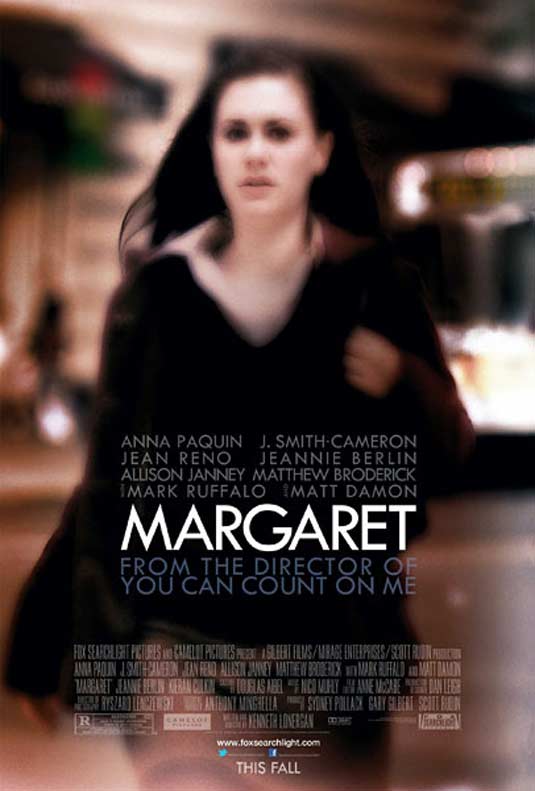 Margaret Poster