Movie Trailers
MAD MAX: FURY ROAD On-the-Set Video Shows The Movie's Vehicles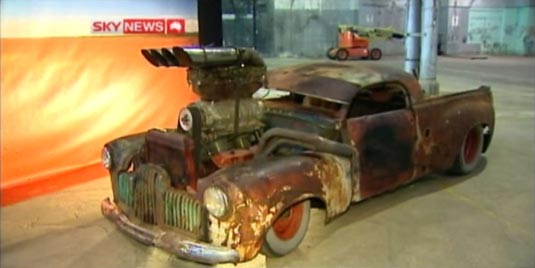 The Mad Max films have always featured some crazy, souped-up vehicles of mass destruction, and George Miller's upcoming fourth entry in the franchise, Mad Max: Fury Road, won't be any different. Check out the following production video from the set in Namibia after the jump. Synopsis:
Mad Max Fury Road sees Mad Max (Hardy) caught up with a group of people fleeing across the Wasteland in a War Rig driven by the imperator Furiosa (Theron). A battle erupts on the road in front of them over the course of the film as they attempt to push the rig to safer terrain.
Mad Max: Fury Road stars Tom Hardy, Charlize Theron, Nathan Jones, Nicholas Hoult, Hugh Keays-Byrne, Zoe Kravitz, Riley Keough, Rosie Huntington-Whiteley and Megan Gale. It is slated for a 2014 release.