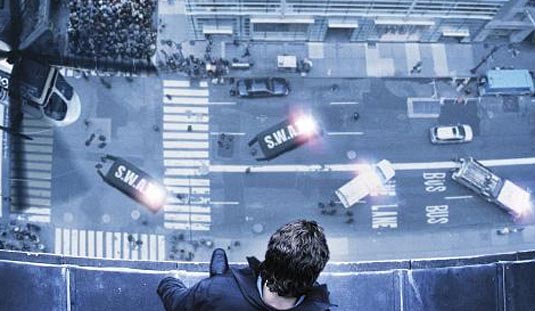 Well, yes, we could call this some kind of trailer, though it's actually another TV spot for the upcoming Asger Leth directed thriller Man on a Ledge.
It's quite interesting and intense story of a man who stands on the ledge of a building while a hard-living New York Police Department hostage negotiator tries to talk him down.
I'm actually an aeroacrophobic, so I will skip this excitement, but hey – you're free to check it out!
Movie stars Sam Worthington as the above mentioned guy while Elizabeth Banks plays negotiator who tries to talk him down.
But, the longer they are on the ledge the more she realizes that he might have an ulterior objective.
The rest of the cast includes Anthony Mackie as Worthington's best friend and ally, Jamie Bell as Worthington's younger brother and ardent supporter, Ed Harris as powerful businessman, while Edward Burns portrays a rival negotiator who tries to swoop in when he believes Banks' character has a conflict of interest.
We also have Casa de me Padre star, Genesis Rodriguez as Bell's girlfriend who along with Bell, tries to prove Worthington's innocence. And that's pretty much all about this project.
Man on a Ledge opens on January 27th, 2012.