Movie News
Marvel Tests for GUARDIANS OF THE GALAXY Lead in Actors' Shortlist; Joel Edgerton, Jack Huston, Lee Pace, Jim Sturgess and Eddie Redmayne Included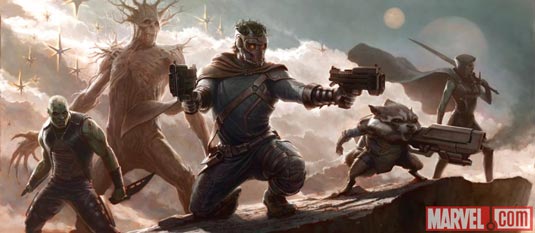 While rumors continue to favor Disney's Star Wars, Marvel is busy looking for the actor to play their Star-Lord.
A shortlist of actors is reportedly being tested for the lead role in Marvel's Guardians of the Galaxy, directed by James Gunn. The list contains names such as Joel Edgerton, Jack Huston, Jim Sturgess, Lee Pace and Eddie Redmayne.
The leader of the Guardians, Peter Quill aka Star-Lord, was born of a human mother and alien father. He's a master strategist and combat expert who wears an ability-enhancing suit and pilots a psychically-linked ship.
Sounds like a great role for any one of these guys, but there have been even more names thrown into the competition.
According to Deadline, Marvel's shortlist of actors to take on the mantle of Star-Lord in Guardians of the Galaxy also includes Garrett Hedlund, James Marsden and Sullivan Stapleton.
I'd vote Edgerton being the favorite, when all is taken into account. Hedlund and Marsden had their chance to be leaders in big franchises and it wasn't much convincing. Pace is a fantastic actor, but I just can't see him as a grizzled, riled and case-hardened leader of an alien space force. I'm not too familiar with performances from Huston, Redmayne or Stapleton, but I have to say that the last one has the look and size to be a believable Star-Lord.
Guardians of the Galaxy hits the theaters on August 1st, 2014.
Who do you think should be the Star-Lord?