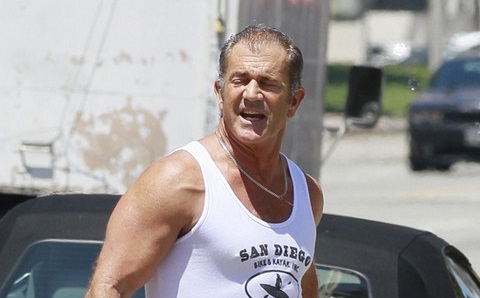 We actually had the first images from the set of The Expendables 3 that arrived yesterday, and now we have our first look at the co-founder of the band of mercenaries, Conrad Stonebanks, played by Mel Gibson who put a little beef on for his villain role. 57-year-old thesp – bigger than he has ever been – is set to play alongside equally yoked middle-aged actors Sylvester Stallone, Arnold Schwarzenegger, Jason Statham, and Dolph Lundgren. The third installment of The Expendables action-thriller franchise also stars Jet Li, Randy Couture and Terry Crews (returning to their original roles), with Wesley Snipes, Antonio Banderas, and Harrison Ford joining the all-star cast. New recruits also include Kellan Lutz, Glen Powell, MMA star Ronda Rousey and welterweight boxing champion Victor Ortiz. Director Patrick Hughes is currently filming on location in Bulgaria. The Expendables 3 is set to hit theaters on August 15th, 2014. Check Gibson sporting a tank top while leaving a Los Angeles gym.
You can also check out the new synopsis:
In The Expendables 3, Barney (Stallone), Christmas (Statham) and the rest of the team comes face-to-face with Conrad Stonebanks (Gibson), who years ago co-founded The Expendables with Barney. Stonebanks subsequently became a ruthless arms trader and someone who Barney was forced to kill… or so he thought. Stonebanks, who eluded death once before, now is making it his mission to end The Expendables – but Barney has other plans. Barney decides that he has to fight old blood with new blood, and brings in a new era of Expendables team members, recruiting individuals who are younger, faster and more tech-savvy. The latest mission becomes a clash of classic old-school style versus high-tech expertise in the Expendables' most personal battle yet.