Movie News
Meryl Streep as Margaret Thatcher in The Iron Lady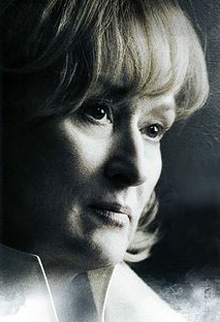 Very logical choice, indeed! Legendary
Meryl Streep
is in talks to play Britain's first female Prime Minister
Margaret Thatcher
in a new biopic which would reunite her with
Mamma Mia!
director
Phyllida Lloyd
. The Oscar winning actress is being lined up to star in the film alongside
Jim Broadbent
as Thatcher's husband, Denis. The movie is being put together by Pathe and Film4 and will be set in 1982 as the political crisis between England and Argentina over the Falkland Islands escalated into war. Based on a script by
Abi Morgan
,
The Iron Lady
will tell the story of "a woman who smashed through the barriers of gender and class to be heard in a male-dominated world. The story concerns power and the price that is paid for power, and is a surprising and insightful portrait of an extraordinary and complex woman". Margaret Thatcher was Britain's first female prime minister and served three consecutive terms in office. She is one of the dominant political figures of 20th century Britain, and Thatcherism continues to have a huge influence. She was in office as Prime Minister from May 1979 to November 1990 and consequently was the political face of England throughout the '80s just as Ronald Reagan was for the United States through most of the decade. More conservative than Reagan, she faced an intense political crucible in her early years as PM thanks to rampant inflation and unemployment. Privatization was a core value of her economic policy and her nationalism and moral conservatism drew as much criticism (perhaps more) as they did support. Before the Falkands War her approval fell to 25%, but a swift and aggressive resolution to the conflict saw that rating more than double within a span of months. The film is scheduled to shoot at the end of the year. We'll keep an eye on their work, and you guys make sure you stay tuned!