Movie News
Michael Bay's TEENAGE MUTANT NINJA TURTLES Have All Been Cast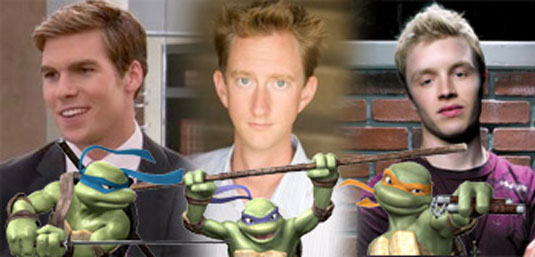 After
casting his Raphael
just before the weekend in the face and body of actor
Alan Ritchson
,
Michael Bay
hasn't wasted time locking down the rest of the Teenage Mutant Ninja Turtles for the mo-cap-heavy reboot of the comic/animation franchise he's producing for director
Jonathan Liebesman
. According to
Deadline
, the mutant quartet is being filled out by
Pete Ploszek
as Leonardo,
Jeremy Howard
as Donatello and
Noel Fisher
as Michelangelo. I've never heard of any of them, but according to those knowing better, the latter's perhaps the best-known, having previously appeared in Liebsesman's Battle: Los Angeles, as well as Twilight: Breaking Dawn – Part Two and Hatfields & McCoys. Howard seems to be a complete newcomer, while Ploszek appeared in an episode of Parks & Recreation. The four join
Megan Fox
in the film, which opens on May 20th, 2014.