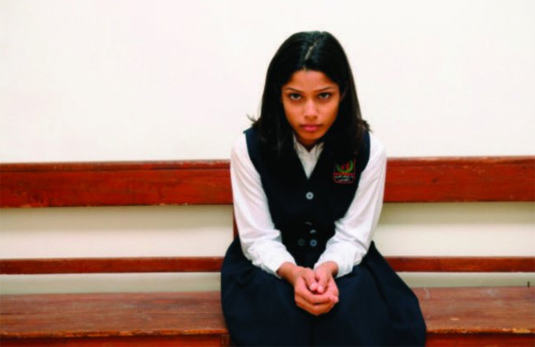 Another movie selected
In Competition
at 67th
Venice Film Festival
is movie titled
Miral
, directed by
Julian Schnabel
.
Freida Pinto as Miral
The movie is based on
Rita Jebreal
novel, and is already being described as one "dedicated to all those, on both sides, who believe peace is possible, is noble and sincere, a real ode to tolerance, which shows us that you can teach pacifism while all around is falling apart…." Miral is "a chronicle of Hind Husseini's effort to establish an orphanage in Jerusalem after the 1948 partition of Palestine and the creation of the state of Israel. On her way to work, Hind Husseini comes across 55 orphaned children in the street. She takes them home to give them food and shelter. Within six months, 55 had grown to almost 2,000, and the Dar Al-Tifel Institute was born. In 1978, at the age of 7, Miral was sent to the Institute by her father following her mother's death. Brought up safely inside the Institute's walls, she is naïve to the troubles that surround her. Then, at the age of 17, she is assigned to teach at a refugee camp where she is awakened to the reality of her people's struggle. When she falls for political activist, Hani, she finds herself torn between the fight for the future of her people and Mama Hind's belief that education is the road to peace."
Miral
stars
Freida Pinto
(Miral),
Hiam Abbass
(Hind Husseini),
Willem Dafoe
(Eddie),
Alexander Siddig
(Miral's father),
Ruba Blal, Omar Metwally
and
Vanessa Redgrave
.