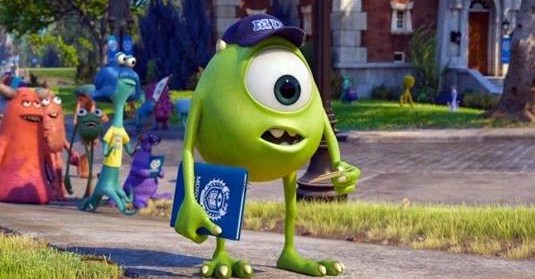 Yet another TV spot for Monsters University has arrived, and as usual – you can check it out in the rest of this report. The latest 30-sec video is all about Mike and Sulley (and an odd bunch of misfit monsters) who will have to work together if they ever hope to make things right. Head inside to take another look at these scary dudes & let us know what you think…
Directed by Dan Scanlon and produced by Kori Rae, Monsters University is set about 10 years before the events of the Monsters, Inc.
It follows serious yet intelligent 17-year-old Mike Wazowski, voiced by Billy Crystal, who is extremely eager to start college, where he is majoring in scaring. But during his first semester at MU, his plans are derailed when he crosses paths with a natural-born Scarer Sulley, voiced by John Goodman.
Beside Crystal and Goodman, the rest of the voice-cast includes Steve Buscemi, Helen Mirren, Alfred Molina, Dave Foley, Joel Murray, Peter Sohn, Charlie Day, Nathan Fillion, Bobby Moynihan, Julia Sweeney, Aubrey Plaza and Frank Oz.
Monsters University is set to hit theaters on June 21st, 2013.