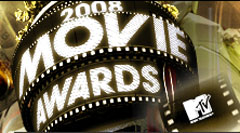 MTV: Music Television today announced the nominees for the "2008 MTV Movie Awards."
Dominating the pack is "Superbad" with 5 nominations followed by "Juno" with 4 nods. Also vying for the much sought-after popcorn statue is "Enchanted," "Transformers," "Pirates of the Caribbean: At World's End" and "Knocked Up" with 3 nominations each.
The 17th annual awards show will be executive produced by Emmy Award winning producer Mark Burnett.
Hosted by Mike Myers, the "2008 MTV Movie Awards" will be broadcast LIVE from the Gibson Amphitheatre in Universal City, CA on Sunday, June 1st at 8pm/7c. Performers and presenters for the "2008 MTV Movie Awards" will be announced at a later date.
MTV unveils another new category, "BEST SUMMER MOVIE SO FAR" giving a nod to most recent summer blockbusters.
Fans can vote by visiting www.movieawards.mtv.com before May 23rd to support their favorite nominees in each category. Fans can also go online to vote for the user-generated category, "BEST MOVIE SPOOF" where viewers have the opportunity to submit their own original movie shorts parodying films from the past year.
Finalists for the "BEST MOVIE SPOOF" will be flown to Los Angeles to attend the "2008 MTV Movie Awards" where one will be crowned the winner.
Nominees for the "2008 MTV Movie Awards" are:
BEST MOVIE
-Juno (Fox Searchlight Pictures)
– Transformers (DreamWorks SKG/Paramount Pictures)
-Pirates of the Caribbean: At World's End (Walt Disney Pictures)
-I Am Legend (Warner Bros. Pictures) — Superbad (Sony Pictures)
– National Treasure: Book of Secrets (Walt Disney Pictures)
BEST MALE PERFORMANCE
– Will Smith — I Am Legend (Warner Bros. Pictures)
-Shia LaBeouf — Transformers (DreamWorks SKG/Paramount Pictures)
-Denzel Washington — American Gangster (Universal Pictures)
– Matt Damon — The Bourne Ultimatum (Universal Pictures)
-Michael Cera — Juno (Fox Searchlight Pictures)

BEST FEMALE PERFORMANCE
– Ellen Page — Juno (Fox Searchlight Pictures)
– Keira Knightley — Pirates of the Caribbean: At World's End (Walt Disney Pictures)
– Katherine Heigl — Knocked Up (Universal Pictures)
– Amy Adams — Enchanted (Walt Disney Pictures)
-Jessica Biel — I Now Pronounce You Chuck & Larry (Universal Pictures)
BEST VILLAIN
– Johnny Depp — Sweeney Todd: The Demon Barber of Fleet Street (DreamWorks SKG/ Warner Bros. Pictures)
– Denzel Washington — American Gangster (Universal Pictures)
-Angelina Jolie — Beowulf (Warner Bros. Pictures/ Paramount Pictures)
– Topher Grace — Spider-Man 3 (Sony Pictures)
-Javier Bardem — No Country For Old Men (Paramount Vantage/ Miramax Films)

BEST COMEDIC PERFORMANCE
-Johnny Depp — Pirates of the Caribbean: At World's End (Walt Disney Pictures)
-Adam Sandler — I Now Pronounce You Chuck & Larry (Universal Pictures)
-Jonah Hill — Superbad (Sony Pictures)
– Seth Rogen — Knocked Up (Universal Pictures)
-Amy Adams — Enchanted (Walt Disney Pictures)
BEST FIGHT
– Matt Damon vs. Joey Ansah — The Bourne Ultimatum (Universal Pictures)
– Tobey Maguire vs. James Franco — Spider-Man 3 (Sony Pictures)
-Hayden Christensen vs. Jamie Bell — Jumper (20th Century Fox)
-Sean Faris vs. Cam Gigandet — Never Back Down (Summit Entertainment, LLC)
-Chris Tucker & Jackie Chan vs. Sun Ming Ming — Rush Hour 3 (New Line Cinema)
-Alien vs. Predator- Aliens vs. Predator — Requiem (20th Century Fox)
BEST KISS
– Shia LaBeouf and Sarah Roemer — Disturbia (DreamWorks SKG)
-Amy Adams and Patrick Dempsey — Enchanted (Walt Disney Pictures)
-Daniel Radcliffe and Katie Leung — Harry Potter and the Order of the Phoenix (Warner Bros. Pictures)
-Ellen Page and Michael Cera — Juno ((Fox Searchlight Pictures))
-Briana Evigan and Robert Hoffman — Step Up 2 The Streets (Touchstone Pictures)
BREAKTHROUGH PERFORMANCE
-Zac Efron — Hairspray (New Line Cinema)
– Seth Rogen — Knocked Up (Universal Pictures)
-Jonah Hill — Superbad (Sony Pictures)
-Michael Cera — Superbad (Sony Pictures)
-Chris Brown — This Christmas (Screen Gems)
-Nikki Blonsky — Hairspray (New Line Cinema)
-Megan Fox — Transformers (DreamWorks SKG/Paramount Pictures)
-Christopher Mintz-Plasse — Superbad (Sony Pictures)

BEST SUMMER MOVIE SO FAR
-Iron Man (Paramount Pictures/Marvel Entertainment)
-Indiana Jones and the Kingdom of the Crystal Skull (Paramount Pictures/Lucas Films)
-Sex and the City: The Movie (New Line Cinema)
– Speed Racer (Warner Bros. Pictures)
-The Chronicles Of Narnia: Prince Caspian (Walt Disney Pictures/Walden Media)