MTV's 2011 "Movie Awards" kept its tradition as Hollywood's most atypical and irreverent awards show with surprise appearances, raunchy roasts, exclusive sneak peeks and even a few #laserboners. The LIVE telecast got off to a hilarious and celeb-studded start with host Jason Sudeikis spoofing "The Hangover Part II" as he gets drunk with Justin Bartha, loses Taylor Lautner, wakes up to a tattooed Eva Mendes sleeping in a bathtub and receives some tough love from the straight-shooting Chelsea Handler. Sudeikis then launches a no-holds-barred monologue in which no one and nothing is off limits — even himself — riffing on everything from Arnold Schwarzenegger to Justin Bieber to rumors the SNL star may soon be a "baby daddy."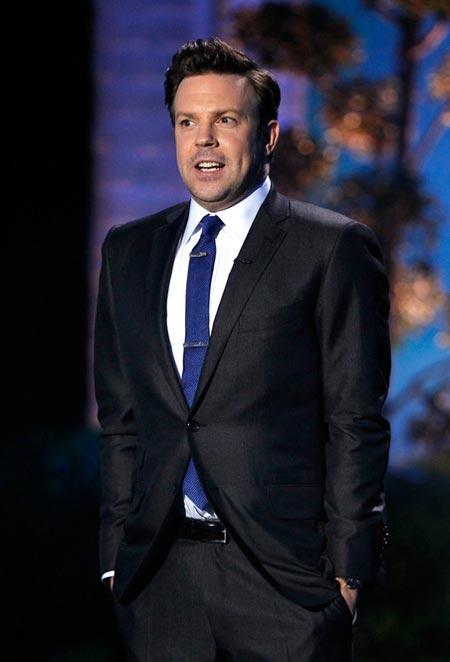 Jason Sudeikis, 2011 MTV Movie Awards
The show celebrated cinema's next generation of talent with first-time winners Justin Bieber, Chloe Grace Moretz, Ellen Page, Alexys Nycole Sanchez and Emma Stone, as well as returning favorites Tom Felton, Robert Pattinson and Kristen Stewart, among others.
The fantastical set featured lush green landscapes, a glowing hillside and cascading crystals that turned the night into a psychedelic summer night's dream. It was the perfect backdrop for MTV to give viewers "first looks" at some of the year's most highly-anticipated movies, including exclusive footage from the super-secret "Super 8" presented by J.J. Abrams, Steven Spielberg, Elle Fanning and Joel Courtney; never-before-seen footage from "The Twilight Saga: Breaking Dawn-Part 1"; and a sneak peek clip from the concluding chapter of the most successful film franchise in movie history, "Harry Potter and the Deathly Hallows-Part 2," introduced by the film's leading actress Emma Stone.
Fan favorite actress Reese Witherspoon was honored with this year's "MTV Generation Award." Following toasts by former co-stars Robert Pattinson and Patrick Dempsey, and upcoming co-star Chelsea Handler, Witherspoon poked fun at her presenters but also gave a message of empowerment to young women.
Emma Stone became the second woman ever, after Reese Witherspoon, to win in the "BEST COMEDIC PERFORMANCE" category. Stone then took her humor from the silver screen to the stage when she joined Jason Sudeikis for a laugh-out-loud musical send-up that featured movie themed songs written by this year's host and featuring Foo Fighters' Dave Grohl on the gong.

Steven Spielberg, J.J. Abrams, Elle Fanning and Joel Courtney, 2011 MTV Movie Awards
Kristen Stewart took home "BEST FEMALE PERFORMANCE and "BEST KISS" for the third year straight, while Ellen Page grabbed "BEST SCARED-AS-S**T PERFORMANCE." Winner Chloe Grace Moretz took home awards for "BEST BREAKOUT STAR" and "BIGGEST BADASS STAR," and child actor Alexys Nycole Sanchez won the first-ever "golden popcorn" in the "BEST LINE FROM A MOVIE" category.
This year's show took the funny to a whole new level as Jim Carrey — the star who has won the most "Movie Awards" ever — introduced the Foo Fighters while wearing a business suit made of green screen that projected images of landscapes, cities, explosions…and even a couple of humping dogs. The Foo Fighters brought down the house as they took the stage for an electric performance of "Walk," the second single off their chart-topping album Wasting Light. Switching gears from rock royalty to rap and R&B's rising stars, critically-acclaimed hip-hop superstar Lupe Fiasco was joined by R&B sensation Trey Songz for their first-ever televised performance of the single "Out of My Head," off Lupe's #1 album LASERS, into Lupe's performance of his platinum-hit song "The Show Goes On."

Reese Witherspoon, 2011 MTV Movie Awards
Justin Bieber made a surprise appearance that caused the hearts of teen girls everywhere to beat double time, as he was awarded "BEST JAWDROPPING MOMENT." Ryan Reynolds and Blake Lively from "Green Lantern" took the stage as "Jackass-3D" stars Steve-O, Chris Pontius and David England, along with "Twilight Saga" heartthrob Kellan Lutz, sported green #laserboners in the audience.
"The Twilight Saga: Eclipse" took home the most golden popcorns of any film for a total of five awards in the categories "BEST MOVIE," "BEST FEMALE" and "BEST MALE PERFORMANCE," "BEST KISS" and "BEST FIGHT."

"Twilight" stars Taylor Lautner, Robert Pattinson and Kristen Stewart, 2011 MTV Movie Awards
Full Winner List of 2011 MTV Movie Awards:
BEST MOVIE: "The Twilight Saga: Eclipse"
BEST FEMALE PERFORMANCE: Kristen Stewart, "The Twilight Saga: Eclipse"
BEST MALE PERFORMANCE: Robert Pattinson, "The Twilight Saga: Eclipse"
BEST BREAKOUT STAR: Chloe Grace Moretz, "Kick-Ass"
BEST COMEDIC PERFORMANCE: Emma Stone, "Easy A"
BEST LINE FROM A MOVIE: Alexys Nycole Sanchez, "Grown Ups": "I want to get chocolate wasted."
BEST VILLAIN: Tom Felton, "Harry Potter and the Deathly Hallows: Part 1"
BEST FIGHT: Robert Pattinson vs. Bryce Dallas Howard and Xavier Samuel, "The Twilight Saga: Eclipse"
BEST KISS: Kristen Stewart and Robert Pattinson, "The Twilight Saga: Eclipse"
BEST JAW-DROPPING MOMENT: Justin Bieber, "Justin Bieber: Never Say Never," Performance Spectacular
BEST SCARED-AS-[HELL] PERFORMANCE: Ellen Page, "Inception"
BIGGEST BAD[expletive] STAR: Chloe Grace Moretz, "Kick-Ass"
Robert Pattinson Kisses Taylor Lautner MTV Movie Awards 2011
[youtube]http://www.youtube.com/watch?v=4by0WxRzzOM[/youtube]