Movie News
X-Men: First Class' VFX Supervisor Lined up his Directorial Debut Super Zero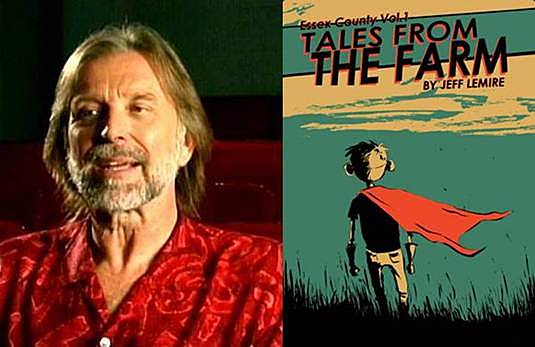 Academy Awarded John Dykstra, who served as a special effects supervisor on many great projects ever since has finally aligned to make his first feature – Variety reportedly revealed that he just signed on to direct a film named Super Zero, an adaptation of the graphic novel Tales From the Farm, by Jeff Lemire.
John Carr has written a script, and Steven Gilder and Alec Chorches are producing.
At San Diego Convention Center on this July they plan to seize Comic-Con occasion to attract public attention to Super Zero project. Producer Gilder said that Lemire and the publisher, Top Shelf Productions, therefore will make an appearance.
Furthermore, Gilder added the producers aim:
to have a strong hard push in thesenext weeks, either locking cast and/or getting commitments from financing and/or distributors, (then) going to the studios with a package."
Presumably Super Zero will be live action with extensive vfx sequences. Story, that Lemire illustrated and which Rhythm&Hues Studios (Yogi Bear) call edgy but family-friendly, follows a recently orphaned 10-year-old who goes to live on his Uncle's farm. Their relationship grows increasingly strained and Lester befriends the town's hulking gas station owner, Jimmy Lebeuf. The two escape into a private fantasy world of Superheroes, Alien Invaders and good old-fashioned pond Hockey. Tales from the Farm is the first volume in a trilogy of graphic novels set in a fictionalized version of Lemire's hometown of Essex County, Ontario.
Lemire is an award-winning Canadian cartoonist known for his temperamental, humanistic stories and sketchy, cinematic, black-and-white art.
John Dykstra is a pioneer in the development of the use of computers in filmmaking. He won Oscars for his photographic effects work for the original Star Wars and 2005's Spider-Man 2. Dykstra explained his motivation to direct,
I've been so involved in films that are primarily based on the action sequences and over-the-top visuals that this to me was incredibly attractive just based on the depth of the characters and the evocative nature of the story."
Check out the trailer for Jeff Lemire's graphic novel and stay tuned.
[youtube]http://www.youtube.com/watch?v=2LKHAyCiTzQ[/youtube]
Tales from the Farm Trailer
Source: Variety