Movie News
Neil LaBute and Aaron Eckhart will Reunite on The Hope Of Geography with Ed Harris also Star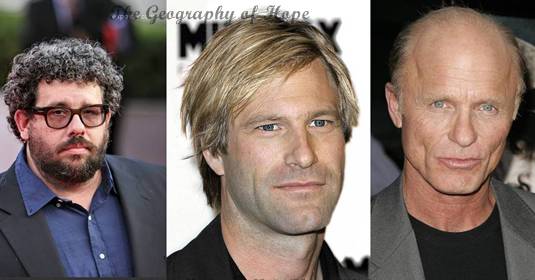 Neil LaBute and Aaron Eckhart will rejoin on The Hope of Geography with Ed Harris also attached to star.
Do you remember Aaron Eckhart portraying Chad in Neil LaBute's In The Company Of Men? You know, the story follows two business executives: an avowed misogynist and recently emotionally wounded guy by his love interest–planning to exact revenge on the female gender by seeking out the most innocent girl they can find and ruining her life.
Well, LaBute is not intending to have it remake – I have in mind how good combination they'd proved. As well, LaBute will again direct the movie from his own script, and Eckhart will be joined by Ed Harris, who previously starred in LaBute's one man play Wrecks.
The Hope of Geography theme looks similar in a certain way to Company – two criminals (Eckhart and Harris) run away to Baja, Mexico, after a robbery in a San Diego convenience store goes bad. There they come across several American women, and they find themselves torn between the impulse to grift the ladies and romance them. The film is set in 1970s.
The idea, the Sundial producers said,
is to shoot as soon as this year in Puerto Rico, where there's a hotel of faded charm that will stand in for 1970s Mexico. "
No ideas how this might affect the Agatha Christie adaptation titled Crooked House and penned by Julian Fellowes that LaBute already signed on to direct, and was also gearing up to shoot this year.
As for Eckhart he recently starred opposite Nicole Kidman in Rabbit Hole (2010) and in 2011 he toplined Jonathan Liebesman's Sci-fi film Battle: Los Angeles. Eckhart is also set to appear along Johnny Depp in Hunter S. Thompson's novel adaptation The Rum Diary.
Besides Neil LaBute's one-man play Wrecks at the Public Theater in New York City, Harris starred together with his wife Amy Madigan in Ash Adams' indie crime drama Once Fallen (2010).
Stay tuned and check out the In the Company of Men trailer below:
[youtube]http://www.youtube.com/watch?v=5kvfCm-rVpQ[/youtube]
In The Company of Men, trailer