Movie Photos
Concept Art For NEUROMANCER, Mark Wahlberg And Liam Neeson Confirmed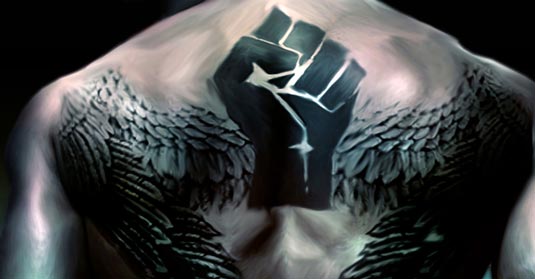 On the website of GFMFilms, which is involved in Vincenzo Natali's adaptation of Neuromancer, you'll find a page dedicated to the film. There, you can see a single news update on the film, and two pieces of concept art design work. The news line goes like this:
21/6/2012 – Pay or Play offers have been made to Liam Neeson for Armitage and Mark Wahlberg for Case.
This kinda confirms the story of a week or so ago, and here are the images:
This is work by Amro Attia, a designer who has worked with Natali before, contributing to the design of the creatures in Splice (remember that creepy hermaphrodite and the movie's message regarding genetics/playing gods?). I assume there's a good chance that Attia was off of the project before last December, though it is possible he shared the images while still working on the film. Stranger things have happened with concept art, that's for sure. Both images could be potential designs for Case, the protagonist and the role that Mark Wahlberg has been offered; on the other hand, the first could also be Armitage, the Neeson part. In William Gibson's original novel, Henry Dorsett Case is a part-time hacker or 'cyber cowboy' looking for a cure to the damage inflicted upon his nervous system after stealing from a powerful contractor. On the other hand, Armitage is a morally dubious ex-military officer who offers Case the cure if he completes a risky, way-way-way-off-the-books hacking job. As the story progresses, Armitage undergoes a drastic transformation and it would give Neeson a lot to chew over, though I have no doubts that he could pull it off. I am inclined to think that the tattoo on his back is a reference to Screaming Fist (though it reminds too much of the 'resistance' symbol of a little country in Balkans, from time near the beginning of the century). Fans of the book will know what that is, though, and non-fans (and by this I mean people who haven't read it yet – I can hardly imagine that someone could read the book and NOT be a fan, heheh), you might be tempted to read it, and you should. It seems that Neuromancer has finally become 'a work in progress', so I'm happy about it, and can't wait to see the film's reimagining of the book settings. It is suggested that a 2014 release is possible – coinciding nicely with the 30th anniversary of the novel's publication, so stay tuned!