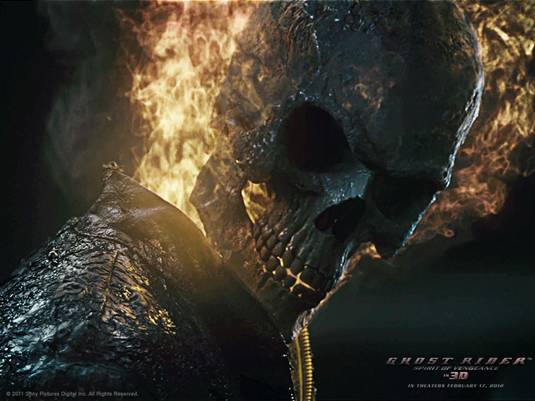 If you haven't seen this one on TV in the past few days you can check out the first TV spot for Ghost Rider: Spirit of Vengeance below.
Ghost Rider: Spirit of Vengeance is directed by Brian Taylor, Mark Neveldine, which stars Nicolas Cage, Idris Elba, Violante Placido, Johnny Whitworth and Ciarian Hinds among the others.
The flick that pees fire comes to theaters February 17th, 2012.
In the new film, Johnny (Cage) is up for his second hellish ride in the leather jacket – still struggling with his curse as the devil's bounty hunter. This time, Blaze rides through Eastern Europe when he is recruited by a secret sect of the church to save a young boy (Fergus Riordan) from Satan (Hinds). Firstly, Johnny Blaze is unwilling to embrace the power of the Ghost Rider, but it is the only way to protect the boy.
Blaze's new nemesis has an assistant on his side in the form of Blackout (Johnny Whitworth). In Blaze's corner is teammate Moreau, a warrior monk played by Idris Elba.
The first TV spot ignores the latter, but does include the spitting bullets part, which sounds cool.
[youtube]http://www.youtube.com/watch?v=fklKMy5lkck&feature=player_detailpage[/youtube]
Ghost Rider: Spirit of Vengeance – TV Spot