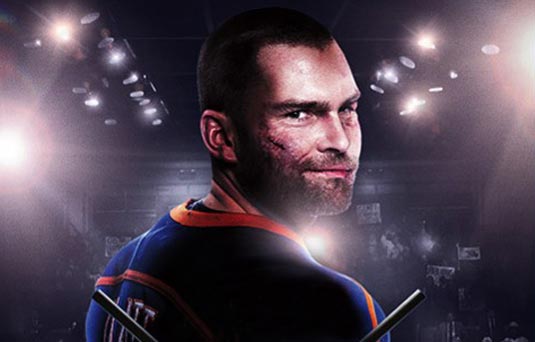 There's a new poster for the upcoming hockey comedy Goon. Based on the novel, Goon: The True Story of an Unlikely Journey into Minor League Hockey, the film is  is directed by Michael Dowse (It's All Gone Pete Tong, Fubar) and co-written by Jay Baruchel and Evan Goldberg. Take a look at these one-sheets below which feature Seann William Scott (Doug Glatt).
"Doug Glatt is a gentle giant who's lethal with his fists but reluctant to use them. That is, until he goes to a hockey game and flattens a visiting player. The next day, while appearing on a web chat show hosted by his best friend, Doug is scouted by the coach of the local minor-league team. Doug's job? Beat up anyone who gets near Xavier Laflamme, a hotshot player afraid to touch the puck since a devastating hit from legend­ary enforcer — and Doug's idol — Ross "The Boss" Rhea."
Additional cast include Liev Schreiber, Baruchel, Alison Pill, and Scott's American Pie co-star Eugene Levy. Goon arrives February 24, 2012 On-Demand and in theaters March 30th, 2012.