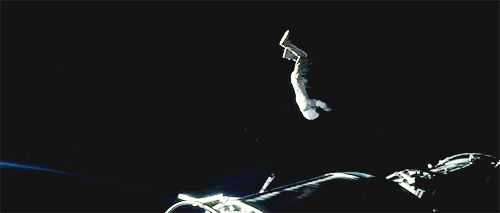 Here's a new Gravity featurette on the 3D that you can refuse to even watch it because you don't want to know any more information before you see it in theaters October 4th, 2013. Director Alfonso Cuaron's masterful space-set dramatic adventure is, perhaps, the best execution yet. A heart-pounding thriller finds Sandra Bullock and George Clooney as they somehow try to find a way back home while aimlessly adrift in space after a disaster. Gravity has earned strong reviews since premiering at the Venice Film Festival last month. The spectacularly-staged film was also screened at the 38th edition of the Toronto International Film Festival where 12 Years a Slave built mojo. Cuaron, who have not directed a movie since 2006s Children of Men, stated:
I enjoyed every single bit of the process, but I would never do it again. It was fun and exciting it was full of challenges. The film was not unlike the journey of the character in the film… It was filled with adversity, things falling apart. You learn to go through and it's weird to say, but some of the adversities were enjoyable. So, all of that was great, but I would never do it again.
Check him out along with Sandra Bullock, and producer David Heyman while discussing the Gravity's 3D and what it brings to the picture. [jwplayer mediaid="171479″]
Bullock plays Dr. Ryan Stone, a brilliant engineer on her first shuttle mission, with veteran astronaut Matt Kowalski (Clooney). But on a seemingly routine spacewalk, disaster strikes. The shuttle is destroyed, leaving Stone and Kowalski completely alone—tethered to nothing but each other and spiraling out into the blackness. The deafening silence tells them they have lost any link to Earth…and any chance for rescue. As fear turns to panic, every gulp of air eats away at what little oxygen is left. But the only way home may be to go further out into the terrifying expanse of space.