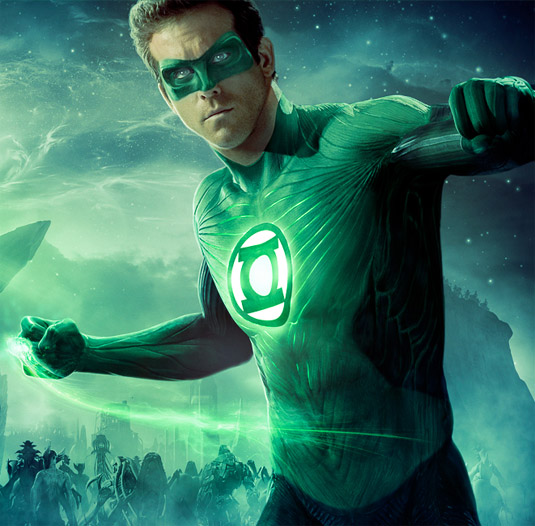 The first
trailer for Green Lantern
, the highly-anticipated big screen adaptation,
directed by
Martin Campbell
hit the net yesterday. And today Warner Bros. Pictures has released another one poster for the movie. Check it out below. Green Lantern stars
Ryan Reynolds
in the title role as Hal Jordan and the movie also stars
Peter Sarsgaard, Mark Strong, Temuera Morrison, Jenna Craig, Jon Tenney, Tim Robbins, Angela Bassett, Taika Cohen
and
Jeff Wolfe
.
Green Lantern synopsis
: In a universe as vast as it is mysterious, a small but powerful force has existed for centuries. Protectors of peace and justice, they are called the Green Lantern Corps. A brotherhood of warriors sworn to keep intergalactic order, each Green Lantern wears a ring that grants him superpowers. But when a new enemy called Parallax threatens to destroy the balance of power in the Universe, their fate and the fate of Earth lie in the hands of their newest recruit, the first human ever selected: Hal Jordan, a gifted and cocky test pilot, but the Green Lanterns have little respect for humans, who have never harnessed the infinite powers of the ring before…
Green Lantern
is currently scheduled for release in 3D and 2D on June 17, 2011.
Green Lantern Poster