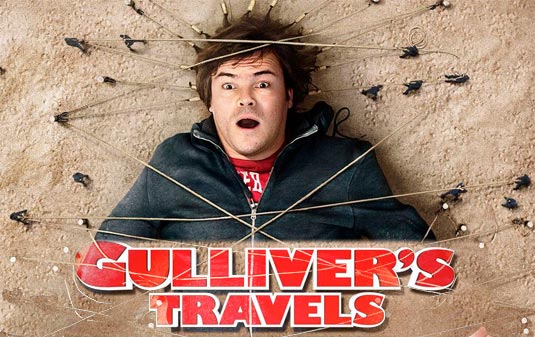 20th Century Fox has sent over a new poster for their upcoming 3D comedy
Gulliver's Travels
starring
Jack Black
,
Emily Blunt,
Billy Connolly
,
Jason Segel, Amanda Peet, Romany Malco, Stewart Scudamore
and
Nikki Harrup
. The story centers on Lemuel Gulliver, a free-spirited travel writer who, on an assignment to the Bermuda Triangle, suddenly finds himself a giant among men when he washes ashore on the hidden island of Lilliput, home to a population of industrious, yet tiny, people.
Gulliver's Travels,
directed by
Rob Letterman
(Monsters vs Aliens), is set to hit theaters on December 22nd, 2010.
Gulliver's Travels Poster