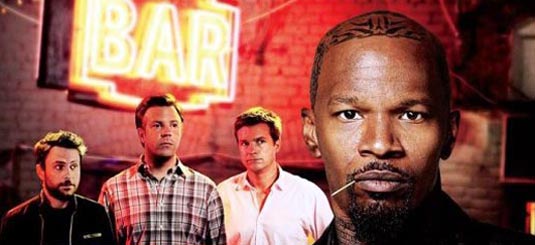 I must admit that I thought this would be just another boring comedy with great cast. But when I saw the trailer, I was like – oh, this is funny. Especially that part when ugly Colin Farrell says – let's fire fat people (hope my boss haven't heard him).
He's definitely one funny horrible boss! The same goes to Jennifer Aniston and Kevin Spacey! Ok, just in case you haven't seen the trailer for the upcoming Seth Gordon's comedy Horrible Bosses, check it out below to see what I'm talking about!
But, today we're here to share with you a new character poster which features Jamie Foxx who plays a scam artist named Motherfucker Jones! So, meet your new murder Motherfucker consultant.
So, as you already know, Horrible Bosses is "a dark, in-the-workplace comedy" based around three friends who conspire to kill their bosses.
"For Nick (Jason Bateman), Kurt (Jason Sudeikis) and Dale (Charlie Day), the only thing that would make the daily grind more tolerable would be to grind their intolerable bosses (Kevin Spacey, Colin Farrell, Jennifer Aniston) into dust.
Quitting is not an option, so, with the benefit of a few-too-many drinks and some dubious advice from a hustling ex-con (Jamie Foxx), the three friends devise a convoluted and seemingly foolproof plan to rid themselves of their respective employers…permanently. There's only one problem: even the best laid plans are only as foolproof as the brains behind them."
Seth Gordon directed from the script of Jonathan Goldstein and John Francis Daley, while Brett Ratner and Jay Stern were in charge for the production.
The movie comes in theaters on July 8th. Let me hear your opinion on this one!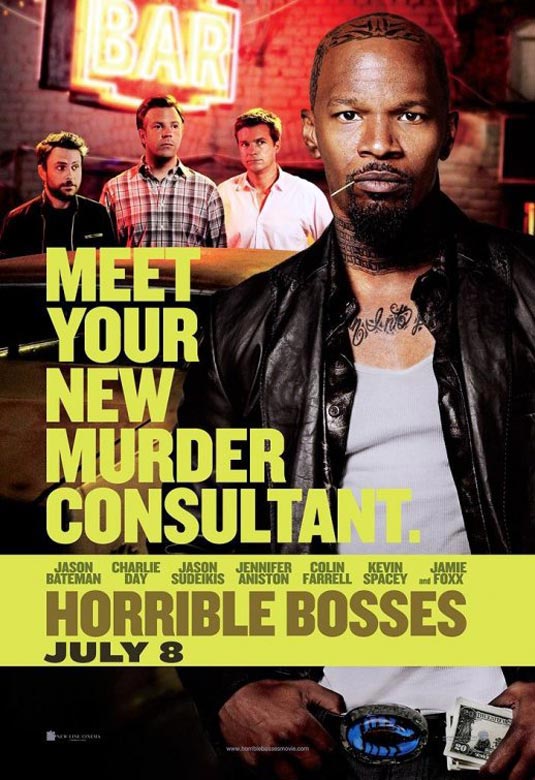 [youtube]http://www.youtube.com/watch?v=EDUpOXfwQUo[/youtube]
Horrible Bosses Trailer