We've got two new images from Joseph Kosinski's Oblivion and Marc Forster's World War Z, courtesy of USA Today. The original sci-fi film Oblivion will be released in IMAX theaters on April 12th, 2013 and conventional theaters on April 19th, 2013, starring Tom Cruise, Olga Kurylenko, Andrea Riseborough, Nikolaj Coster-Waldau and Melissa Leo. The post-apocalyptic thriller World War Z hits theaters on June 21st, 2013, starring Brad Pitt, Mireille Enos, Daniella Kertesz, James Badge Dale, Matthew Fox and David Morse. Judging from the previously released trailers I think Oblivion looks more interesting. The image shows Tom Cruise's character being interrogated by Morgan Freeman. As for World War Z, Paramount is hoping they managed to fix the delayed and extensively reshot its Brad Pitt vs. zombies pic.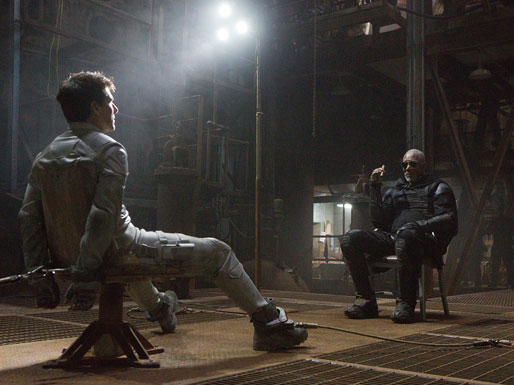 Here's the official synopsis for Oblivion:
Tom Cruise stars in Oblivion, an original and groundbreaking cinematic event from the director of TRON: Legacy and the producer of Rise of the Planet of the Apes. On a spectacular future Earth that has evolved beyond recognition, one man's confrontation with the past will lead him on a journey of redemption and discovery as he battles to save mankind. Jack Harper (Cruise) is one of the last few drone repairmen stationed on Earth. Part of a massive operation to extract vital resources after decades of war with a terrifying threat known as the Scavs, Jack's mission is nearly complete. Living in and patrolling the breathtaking skies from thousands of feet above, his soaring existence is brought crashing down when he rescues a beautiful stranger from a downed spacecraft. Her arrival triggers a chain of events that forces him to question everything he knows and puts the fate of humanity in his hands. Oblivion was shot in stunning digital 4K resolution on location across the United States and Iceland.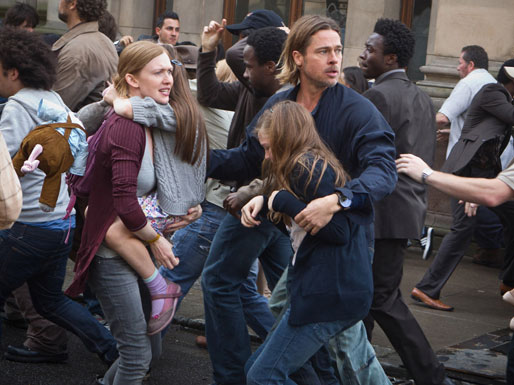 And here's the official synopsis for World War Z:
The story revolves around United Nations employee Gerry Lane (Pitt), who traverses the world in a race against time to stop the Zombie pandemic that is toppling armies and governments and threatening to decimate humanity itself. Enos plays Gerry's wife Karen Lane; Kertesz is his comrade in arms, Segen.