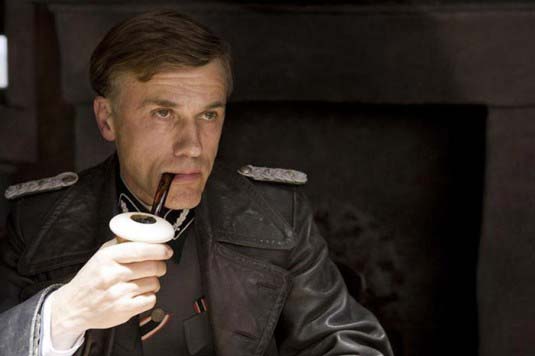 Check out a new clip featuring never-before-seen footage from "Inglourious Basterds." Lt. Aldo Raine (
Brad Pitt
) and Sgt. Donny Donowitz (
Eli Roth
) talk with Col. Hans Landa, the "Jew Hunter" (
Christoph Waltz
). You must admit that Waltz is really great here. "Inglourious Basterds" features a large cast including Brad Pitt as Lieutenant Aldo Raine,
Diane Kruger
as Bridget Von Hammersmark,
Mélanie Laurent
as Shosanna Dreyfus, Christoph Waltz as Col. Hans Landa,
Til Schweiger
as Sgt. Hugo Stiglitz, Eli Roth as Sgt. Donnie Donowitz,
Daniel Brühl
as Fredrick Zoller,
Mike Myers, Martin Wuttke
, Samuel L. Jackson among others. "Inglourious Basterds" both written and directed by
Quentin Tarantino
will hit theaters on August 21st 2009.