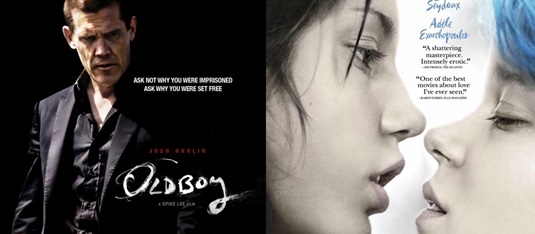 Some new posters have been landed online from the upcoming fall releases, showing off a hammer wielding Josh Brolin and the lesbian romance from France that was this year's big winner at Cannes: a stoic advertising executive against two young women in love. Yes, the hammer from Park Chan-wook's original film is back, but it's not exactly grafted onto the poster with grace. Co-starring Samuel L. Jackson, Elizabeth Olsen, Sharlto Copley, Lance Reddick, Michael Imperioli, James Ransone, and Richard Portnow, Spike Lee's adaptation of Oldboy opens on November 27th, 2013. On the other side, the U.S. poster for 2013 Cannes Palme d'Or winner Blue Is the Warmest Color, which is an adaptation of Julie Maroh's graphic novel, 'Le Bleu est Une Couleur', seems to focus more on the lesbian love angle than anything. Co-written and directed by French-Tunisian filmmaker Abdellatif Kechiche, the NC-17 rated LGBT drama stars Adèle Exarchopoulos and Léa Seydoux, and arrives on October 25th, 2013. Check them out below.
Synopsis:
A re-imagining of the manga that inspired the 2003 Korean film of the same name, Old Boy focuses on a man named Joe Douchett who is captured and imprisoned in a hotel room for over two decades with no understanding as to why. When he is suddenly released, he's told that he has just four days to determine the reason for his imprisonment.
Synopsis:
Blue is the Warmest Color, originally called La vie d'Adèle: chapitre 1 & 2 in French, centers on a 15-year-old girl named Adèle who imagines that the mysterious, blue-haired girl she encountered in the street – an older art student named Emma, who will soon enter Adèle's life for real – slips into her bed and possesses her with an overwhelming pleasure. Kechiche's movie is, like the films of John Cassavetes, an epic of emotional transformation that pulses with gestures, embraces, furtive exchanges, and arias of joy and devastation.