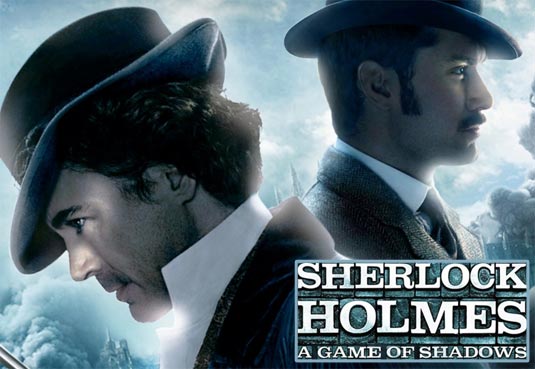 Today we have for you a new poster for 
Guy Ritchie
-directed
Sherlock Holmes: A Game of Shadows, 
featuring
Robert Downey Jr.
and his loyal assistant
Jude Law.
"A Game of Shadows" follows Sherlock as he pursues a new criminal mastermind at large, Professor Moriarty. Equally as intellect as Sherlock, Moriarty has an advantage over the renowned detective for his capacity for evil and complete lack of conscience. Still, Sherlock gets new helps in the form of his older brother Mycroft Holmes and a gypsy woman named Sim. Jared Harris, Noomi Rapace and Stephen Fry are added to the cast ensemble, while Rachel McAdams returns to portray Irene Adler.
Sherlock Holmes: A Game of Shadows
is set to hit theaters on December 16th, 2011.