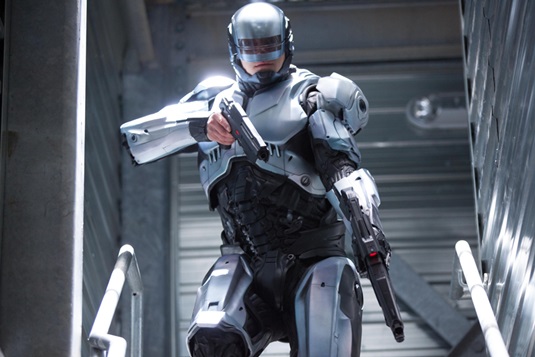 In addition to the first trailer for José Padilha's sci-fi/action remake of RoboCop, Columbia Pictures and MGM have also graced us with several new stills. The stills as well as the trailer feature plenty of action and a shiny new suit that pays homage to Paul Verhoeven's original. RoboCop's nsemble cast includes Joel Kinnaman as titular character Alex Murphy (seen here in full Robo-getup); Abbie Cornish as his wife, Clara Murphy; Gary Oldman as brilliant scientist and RoboCop-creator, Dr. Dennett Norton; Michael Keaton as OmniCorp executive, Raymond Sellars; Samuel L. Jackson plays conservative media mogul Pat Novak, along with Jackie Earle Haley, Michael K. Williams, Jay Baruchel, Jennifer Ehle, and Marianne Jean-Baptiste co-starring. Padlha's first big-budget Hollywood action flick opens in theaters on February 7th, 2014. This might also get youngsters interested in checking out the 1987 original version. Check out all the newly-released pics from RoboCop.
Which RoboCop costume do you prefer: silver or the black one? Synopsis:
In RoboCop, the year is 2028 and multinational conglomerate OmniCorp is at the center of robot technology. Their drones are winning American wars around the globe and now they want to bring this technology to the home front. Alex Murphy (Kinnaman) is a loving husband, father and good cop doing his best to stem the tide of crime and corruption in Detroit. After he is critically injured in the line of duty, OmniCorp utilizes their remarkable science of robotics to save Alex's life. He returns to the streets of his beloved city with amazing new abilities, but with issues a regular man has never had to face before.