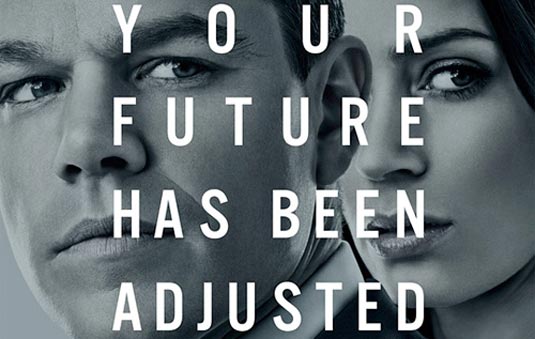 Today a new poster for the upcoming thriller The Adjustment Bureau have been released.
Do we control our destiny, or do unseen forces manipulate us? Matt Damon stars in the thriller The Adjustment Bureau as a man who glimpses the future Fate has planned for him and realizes he wants something else. To get it, he must pursue the only woman he's ever loved across, under and through the streets of modern-day New York.
On the brink of winning a seat in the U.S. Senate, ambitious politician David Norris (Damon) meets beautiful contemporary ballet dancer Elise Sellas (Emily Blunt)–a woman like none he's ever known. But just as he realizes he's falling for her, mysterious men conspire to keep the two apart.
David learns he is up against the agents of Fate itself–the men of The Adjustment Bureau–who will do everything in their considerable power to prevent David and Elise from being together. In the face of overwhelming odds, he must either let her go and accept a predetermined path…or risk everything to defy Fate and be with her.
The Adjustment Bureau is written for the screen and directed by George Nolfi (writer of Ocean's Twelve, co-writer of The Bourne Ultimatum). is the latest in a long line of films based on adaptations of Philip K. Dick's work. The most successful is undoubtedly Blade Runner, which managed to translate the atmosphere of his work perfectly to the screen, in spite of removing almost all of the obviously Phildickian elements except for cigarette smoke and intense paranoia. Other films based on his work include Minority Report, Total Recall, A Scanner Darkly, Screamers, Next, Paycheck and the recently-released Radio Free Albemuth. More obscurely, there is the 1992 Confessions d'un Barjo was written by A Prophet's Jacques Audiard, based on PKD's non-sci-fi, autobiographical novel Confessions of a Crap Artist.
In case you haven't already watched it, check out The Adjustment Bureau trailer.
The Adjustment Bureau was originally scheduled to open this past summer when Universal pushed it back to a mid-September release. Now, Universal has rescheduled the movie to hit theaters on March 4th, 2011.